A freight train operated by Union Pacific Railway, hauling heavy military vehicles, derailed near downtown Colorado Springs Monday night. 
Local news KKTV 11 reported eight train cars hauling heavy military equipment derailed along Las Vegas Street, just south of Circle Drive, around 1830 local time. 
🚨 Happening Now 🚨

At approximately 6:30 PM on Monday, October 9, 2023, CSPD was notified of a possible train derailment in the 2700 Block of East Las Vegas, near the El Paso County Jail. Officers responded and confirmed that a train did derail.

— Colorado Springs Police Department (@CSPDPIO) October 10, 2023
"We were noticing that there were a lot of military vehicles going by," said Adolfo Rangel, who works across the street from the railroad tracks. 
Rangel said, "We were watching them, and then all of a sudden we heard a big pop and bang. It was loud, it was really loud. Then this spun [gestured to part of the train behind him] and then everything started crashing together. I was like 'whoa.' I've never seen anything like that."
"Cars were just spinning everywhere," said Steven Watkins, another witness. "Gravel was thrown all over the place."
Watkins said, "The crashing and everything [was] probably three or four minutes because it was kind of, like, slow in a way, but then all of this stuff [gestured again to the mess behind him] started falling. It was loud. It was super loud."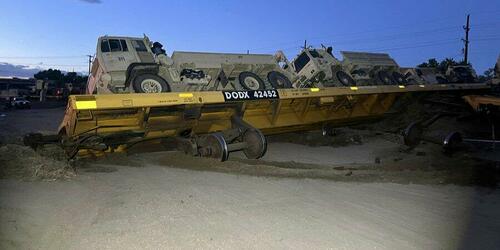 KKTV 11 could not confirm where the train was headed with the Department of Defense. But considering war in the Middle East and Eastern Europe, one can only assume the vehicles were headed to possible ports for export. 
After a train carrying vinyl chloride derailed and exploded in East Palestine, Ohio, earlier this year, there has been a lot of focus on train derailments. This is one of the first, so far, that we've heard involving a train hauling military equipment. 
Loading…