Authored by Joseph Hanneman via The Epoch Times,
John Earle Sullivan, the onetime Black Lives Matter-affiliated provocateur who filmed the deadly shooting of Ashli Babbitt at the U.S. Capitol on Jan. 6, 2021, has been found guilty by a federal jury on seven criminal counts, including civil disorder and carrying a dangerous weapon.
A District of Columbia jury took less than four hours to return guilty verdicts on all seven counts, including corruptly obstructing an official proceeding, civil disorder, unlawful possession of a dangerous weapon on Capitol grounds, entering and remaining in a restricted building or grounds with a deadly or dangerous weapon, disorderly and disruptive conduct in a restricted building or grounds with a deadly or dangerous weapon, disorderly conduct in a Capitol building, and parading, demonstrating or picketing in a Capitol building.
United States District Judge Royce Lamberth ordered Mr. Sullivan taken into custody pending a sentencing hearing. A sentencing date will be set later. Prior to the verdicts, Mr. Sullivan, 29, of Tooele, Utah, was free on personal recognizance.
Jurors rejected Mr. Sullivan's defense that he was a journalist wanting simply to document a historic day on Jan. 6. He argued that his provocative behaviors were meant to mask his previous affiliations with Black Lives Matter and Antifa and prevent him from becoming a target.
That defense mirrors comments he made to The Epoch Times in a January 2022 interview.
"Anything that I might have said was to protect me among a crowd of Trump supporters, white supremacists, and terrorists," he said. "I am not about to have my black [expletive] lynched by a mob of raging idiots."
Using a wealth of video evidence, federal prosecutors painted Mr. Sullivan as a sower of chaos who incited protesters to riot with profanity-laced admonitions such as "take this [expletive]" and "burn this sh*t down!"
The case was unique because it involved someone vastly different than most Jan. 6 defendants—a man with a history of leftist politics influenced heavily by the May 2020 police custody death of George Floyd in Minneapolis.
Mr. Sullivan has been affiliated with Black Lives Matter and Antifa, although some leaders in those movements have disavowed him. He has said he views himself as a civil rights activist and not a member of a group.
Mr. Sullivan is best remembered for the video he took on Capitol grounds, including the 2:44 p.m. shooting of Air Force veteran Ashli Babbitt in the hallway outside of the Speaker's Lobby. His video has been used in the prosecution of many Jan. 6 criminal cases.
While his video of Ms. Babbitt falling back to the floor after being shot by U.S. Capitol Police Lt. Michael Byrd has been seen around the world, it was not shown to the jury in his trial.
When Mr. Sullivan reached the crowded hallway outside the Speaker's Lobby just after 2:35 p.m., he said, "Let me through, I've got a knife. I've got a knife." With that, he was able to make his way through the crowd and secure a spot along the south wall near the front.
From his vantage point, Mr. Sullivan filmed rioter Zachary Alam's escalating violence, punching the lobby doors and later using a black riot helmet to smash the glass. He captured Ms. Babbitt shouting at Capitol Police to call for backup as the situation deteriorated.
Mr. Sullivan was the first to call out that Lt. Byrd had a gun pointed at the lobby doors. "There's a gun! There's a gun! There's a gun!" he shouted, although it did not appear anyone heard him.
Just before the shooting, Mr. Sullivan worked to convince the Capitol Police officers to abandon their post at the door, which they did a short time later. As soon as the officers moved away, Mr. Sullivan shouted, "Go! Let's go! Get this [expletive]!"
John Earle Sullivan reacts to the shooting of Ashli Babbitt that he filmed outside the Speaker's Lobby at the U.S. Capitol on Jan. 6, 2021. (Sam Montoya/Special to The Epoch Times)
Loaded Words
Mr. Sullivan's videos, some uploaded to YouTube with a "Jayden X" watermark and some with an "Insurgence USA" logo, were potent evidence against him in the trial.
A 1-hour 12-minute video used as evidence in several Jan. 6 trials documented Mr. Sullivan's walk from the Washington Monument to the Capitol, with filmmaker Jade Sacker capturing footage of him for a forthcoming documentary.
At one point, Mr. Sullivan wondered aloud what would happen if the crowds knew of his history with Antifa and Black Lives Matter.
"Go to the front. Everybody's like, 'This is Antifa, [expletive] him up,'" Mr. Sullivan said. "I'd be dead."
As he got close to the Capitol, Mr. Sullivan sounded excited as police fired munitions and tear gas into the crowds.
"Oh! They're firing tear gas! Oh, yes," he said on the video. "What are we doing back here? We got to go up and support the troops on that [expletive]. Man the front line!"
As he approached the scaffolding near the west plaza, Mr. Sullivan conversed with several protesters. "Are you ready? I don't think you are," he said to one man. "[Expletive]'s going to go down now. We're taking this [expletive] to the ground."
Mr. Sullivan startled a number of bystanders when he got out a black bullhorn and boomed, "We about to burn this [expletive] down!"
Mr. Sullivan witnessed the crowd breach a police line under the scaffolding and filmed as protesters moved up the stairway. He filmed a second breach of a police line and followed the crowd as it stormed up the northwest steps.
On the upper terrace, as he watched crowds below swarm toward the Capitol, Mr. Sullivan said: "This is a revolution, mother[expletive]! Let's go! We takin' this [expletive]. This is a mother[expletive] revolution. Let's take this [expletive]."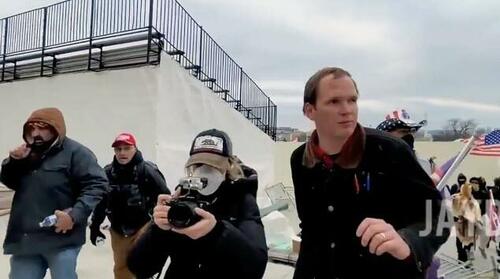 Filmmaker Jade Sacker, 25, of Los Angeles, films activist John Sullivan on the Upper Northwest Terrace of the U.S. Capitol on Jan. 6, 2021. (Jayden X/Screenshot via The Epoch Times)
'We Accomplished This'
Mr. Sullivan then moved with the crowd toward the Senate Wing Door, where he climbed through a broken window into the Capitol.
He said to another protester: "There are so many people! Let's go! This [expletive] is ours. [Expletive] yeah! I can't believe this is reality. We accomplished this [expletive]. We did this [expletive]. Together! [Expletive] yeah!"
As he moved through the grounds, Mr. Sullivan captured random video of now-familiar Jan. 6 figures such as Proud Boys Dominic Pezzola and Christopher Worrell, Jacob "QAnon Shaman" Chansley, the violent and still-unidentified provocateur #RedOnRedGlasses, and rioters spraying police with pepper gel and pulling down barricades.
Mr. Sullivan is frequently heard on his videos telling people that he is at the Capitol to document the events.
"I'm just reporting the situation," he told a Capitol Police officer near one entrance. "That's fine," the officer replied. "You've got to do it from outside."
Mr. Sullivan's attorney, Steven Kiersh, asked jurors why—if his client was at the Capitol to sow chaos—he would film his own deeds while being trailed all day by a documentary filmmaker.
Ms. Sacker's documentary—titled "A House Divided"—is about the liberal Mr. Sullivan and his brother James, a conservative Republican. The film is expected to be released soon.
Loading…