In the aftermath of Hamas' Oct. 7 attack on Israel, dozens of US college campuses were flooded with leftist student organizations who expressed support for the terrorist group. The Post Millennial has caught at least one "social justice educator" with pronouns for giving out extra credit to students to attend a campus walkout protest for Gaza that was co-organized by a group that expresses support for Hamas. 
On Tuesday, Victoria Huynh, an ethnic studies Ph.D. student who teaches Asian American studies at the University of California, Berkeley, emailed her students about attending a national student walkout against the settler-colonial occupation of Gaza, or watch a film about Palestine, as well as bombarding California lawmakers with phonecalls to pressure them over Israel. 
"Doing so will either count as a field trip or an extra 5 points on the field trip category of your grade," Huynh wrote, adding, "We'll spend some time today talking about Palestinian history in relation to class concepts like colonialism, imperialism, and Third World solidarity." She asked students to send photographic proof of their protesting. 
The Post Millennial pointed out the protest was co-organized by Bears for Palestine, also known as Students for Justice in Palestine, an extremist group that supports Hamas. SJP also gave students a "Day of Resistance" toolkit:
"We display our unwavering support of the resistance in Gaza and the broader occupied Palestinian lands," Bears for Palestine wrote on Oct. 7.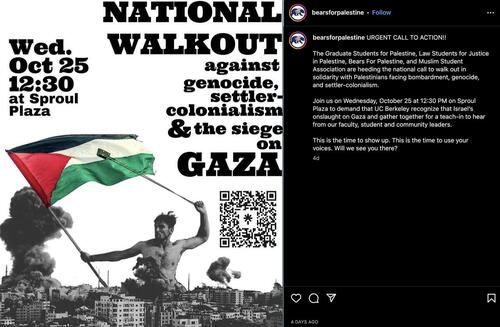 We've all heard the radicalized kids singing this jingle "From the river to the sea, Palestine will be free," which, according to Anti-Defamation League's own words, means:
It is fundamentally a call for a Palestinian state extending from the Jordan River to the Mediterranean Sea, territory that includes the State of Israel, which would mean the dismantling of the Jewish state. It is an antisemitic charge denying the Jewish right to self-determination, including through the removal of Jews from their ancestral homeland.
All across America, pro-Palestinian college students made it perfectly clear what they stand for.

"Hamas are Palestinians. All of us, Hamas."

"This is war."

"From the river to the sea, Palestine will be free."

Where is Joe Biden warning Americans about hate speech against… pic.twitter.com/kLAKrxXZAI

— Becker Clips (@NewsBecker) October 21, 2023
Meanwhile, top school heads at Harvard University and the University of Pennsylvania have been criticized by donors for allowing 'dangerous antisemitism' to brew on campuses in recent weeks. 
In Florida, Gov. Ron DeSantis ordered two state universities to deactivate chapters of SJP for violating state laws banning antisemitism. 
And South Carolina Senator Tim Scott has introduced new legislation to defund colleges and universities that promote antisemitism. 
"Any university or college that peddles blatant antisemitism, especially after Hamas' brutal attack on Israeli civilians, women and children, has no place molding the minds of future generations, never mind receiving millions of taxpayer funds to do so," Scott said. 
He continued, "We must not only call out this hate, but crush it wherever it rears its ugly head. If these schools don't change their ways, my legislation hits them where it hurts – their pocketbooks. No college or university should receive a single cent from the federal government to fund violent antisemitism."
Loading…