Authored by Kevin Stocklin via The Epoch Times (emphasis ours),
Billionaire philanthropist and former New York Mayor Michael Bloomberg pledged $500 million in September toward shifting electricity production in the United States to wind and solar energy and shutting down its coal- and gas-fired plants.
However, some experts say that Bloomberg's millions, together with the billions being spent by the Biden administration, are paving a road to ruin.
The donation from Bloomberg Philanthropies, which adds to the $500 million Mr. Bloomberg pledged in 2019, aims to "finish the job on coal" and "accelerate the clean energy transition to reach the goal of 80 percent of total electricity generation" from renewables, according to an official statement.
"With 372 of 530 coal plants announced to retire or closed to date—more than 70 percent of the country's coal fleet—this next phase will shut down every last U.S. coal plant," Bloomberg Philanthropies stated.
The effort also aims to "slash gas plant capacity in half, and block all new gas plants."
Many of those who study America's electric infrastructure say this is taking us down a dangerous path.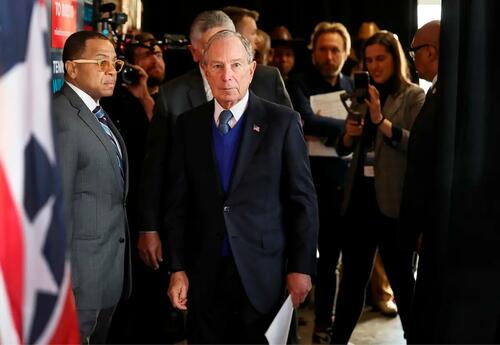 "We're following people here that are pied pipers," physicist and energy analyst John Droz told The Epoch Times, referring to the literary character who led children to their doom through delusive enticement.
"This whole business of promoting renewables as a solution is completely unproven, scientifically."
The transition is destabilizing America's power grid, which could damage transformers and cause long-term outages, according to Steven Milloy, energy expert, news commentator, and publisher of Junkscience.com.
"We are in this nonsensical, headlong rush to wreck our grid," he told The Epoch Times.
What's overlooked in this drive to close coal and gas plants is America's ability to keep the lights on. And while neither the Biden administration nor Mr. Bloomberg has produced a cost-benefit analysis for their plans, analysts say we can look to places such as Germany and Texas, which have taken the lead in transitioning to wind and solar, for a preview of what's in store.
German energy economist Lars Schernikau has assessed the results of his country's "Energiewende" (energy transition) and warns Americans to not follow Germany's example.
"Wind and solar do not seem to work; otherwise, after 20 years of 'Energiewende,' power prices would be lower and Germany would not be in trouble," he told The Epoch Times.
Germany spent hundreds of billions of euros to build wind and solar facilities since 2002, doubling its power generation capacity and boosting the share of renewables to 60 percent from about 10 percent. However, its electricity production has been flat, while the cost of electricity skyrocketed.
Wind and solar don't increase output proportionately because of their significantly lower "capacity factor," or the percentage that's actually generated versus capacity built.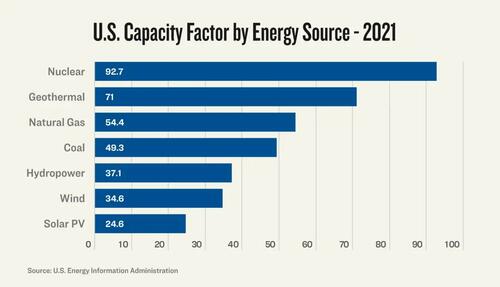 The capacity factor for wind and solar is about 35 percent and 25 percent, respectively, compared to roughly 92 percent for nuclear and 50 percent for coal and natural gas. That many utilities prioritize buying power from wind and solar facilities rather than from coal and gas plants artificially inflates the capacity factor for wind and solar, even from these low levels.
For all the billions spent, Germany's "Energiewende" has delivered an increasingly unreliable electric system at a cost to consumers that's higher than virtually every other developed country.
The process of shuttering coal and nuclear plants has left the country at the whim of the weather and unfriendly neighbors, such as Russia, and also dangerously short of dependable power that can be adjusted to meet fluctuations in demand.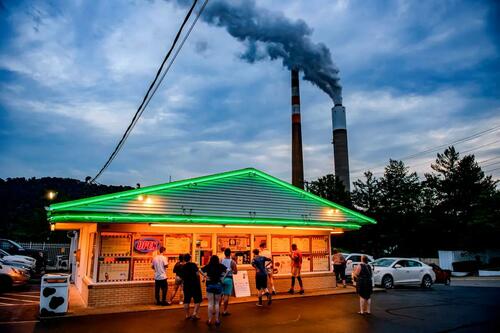 Before the current trend of closing coal plants, electric utilities in the West typically ran their power generation systems with a 20 percent installed reserve margin over expected peak demand, to ensure that they could always meet consumers' needs.
That margin ensured that the electric grid would still function even during unpredicted events, such as a winter freeze in Texas or a summer heat wave in California.
Depleting Reserves to Balance Renewables
The transition to renewables is now eroding that safety margin. Germany, where peak demand is around 80 gigawatts, once had about 100 gigawatts of reliable, dispatchable capacity; now, reliable capacity is down to 80 to 85 gigawatts, according to Mr. Schernikau.
"That means they are actually at the margin," he said. "As soon as you get close to the margin, whether your reliable power supply equals or is barely above your peak power demand, you're running into trouble, which is exactly what Texas has done."
Electric utilities in the United States, one by one, are following in Germany's footsteps, and we're already seeing similar results. The U.S. Energy Information Administration reported that coal and natural gas plants will account for 98 percent of plant closures in 2023 and that U.S. utilities have halted an average of 11 gigawatts of coal-fired capacity per year since 2015.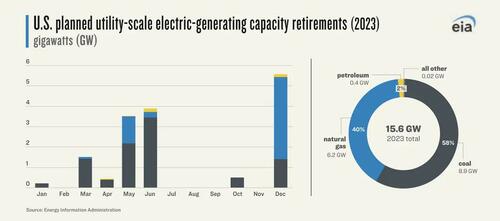 The problem for the electric grid as a whole is that the electricity supply must always match the demand. If the system goes out of equilibrium, substantial damage to the grid's hardware could result, leading to long-term outages.
"Wind comes and goes, and you can't operate off of something that's an unpredictable source; you need an auxiliary source of power to balance it out," Mr. Droz said. "Something like 99 percent of that balancing power is gas.
"When these people say wind, that is deceptive because there is no such thing as wind by itself. What they should be saying is a wind-plus-gas package."
What many U.S. utilities are doing is expanding their wind and solar capacity but not adding reliable backup facilities to match it, he said. Instead, the utilities "just dump any excess need for balancing onto the system," hoping that they can draw on other regions when there's a shortfall.
Increasingly, they're also drawing on the emergency reserve.
"The wind developers are using the reserve as the auxiliary, and that's not supposed to be what happens," Mr. Droz said. "They should not be allowed to take from the emergency reserve to balance their wind projects."
'Reliability Chicken'
Brent Bennett, policy director at the Texas Public Policy Foundation, refers to this process as "reliability chicken."
"They're having to play a lot of games now in order to justify building more wind and solar," he told The Epoch Times.
Among the utilities, Mr. Bennett said, "everybody is pointing at each other and saying, 'We're going to get energy back from these guys,' and these guys over here say, 'We're going to get energy back from those guys.'"
As long as there's only a small percentage of wind and solar in the system, "they can get away with that," according to Mr. Droz.
"But when you get a more severe case, like the Texas freeze, all of a sudden that reserve that was built in for emergencies is completely gone," he said.
Texas's winter storm Uri in 2021 caused hundreds of deaths, many from hypothermia, when power outages prevented Texans from heating their homes. In that case, utilities in the state came within minutes of collapsing the grid for weeks or longer.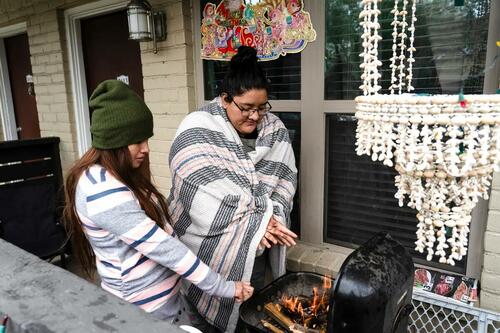 Ultimately, Texas electricity operators were able to implement emergency rolling blackouts and shed enough load to rebalance the system in time to prevent an even greater catastrophe. However, experts warn that operating so close to the margin is a very dangerous game to play.
Testifying before the U.S. Senate in 2015, former CIA Director James Woolsey was asked what would happen to Americans if the electric grid went down for an extended period.
"There are essentially two estimates on how many people would die from hunger, from starvation, from lack of water, and from social disruption," he said.
"One estimate is that within a year or so, two-thirds of the United States population would die. The other estimate is that within a year or so, 90 percent of the U.S. population would die."
Despite that risk, government policies are pushing utilities to move faster to shut down coal and gas plants.
"All the incentives are for utilities to build more wind and solar," Mr. Bennett said.
Read the rest here…
Loading…