House Speaker Mike Johnson's new stopgap funding bill designed to avert a  government shutdown on Friday is expected to head to a vote today, marking Johnson's first big vote as head of the chamber.
Johnson's plan, a "two-step continuing resolution," would fund some parts of the government until January 19, while others would receive funding until February 2.
"This two-step continuing resolution is a necessary bill to place House Republicans in the best position to fight for conservative victories," Johnson said in a statement after announcing the plan to House Republicans in a conference call.
If Johnson's plan does pass in the House, it appears the Senate will rubbers-stamp it – with both Senate Majority Leader Chuck Schumer (D-NY) and Senate Minority Leader Mitch McConnell (R-KY) expressing support for the 'clean' bill, which McConnell labeled a "responsible measure that will keep the lights on," adding "Shutting down does nothing — nothing — to advance that work," referring to the passage of funding bills.
"Regular order requires that Congress provides itself the time for careful consideration and thorough amendment. I'm glad that Speaker Johnson has produced a continuing resolution that would do exactly that," McConnell continued.
The House Freedom Caucus may dick with Johnson's plans, however, announcing after a meeting with the Speaker on Monday night that they won't support the stopgap because it doesn't include any offsetting reductions in spending.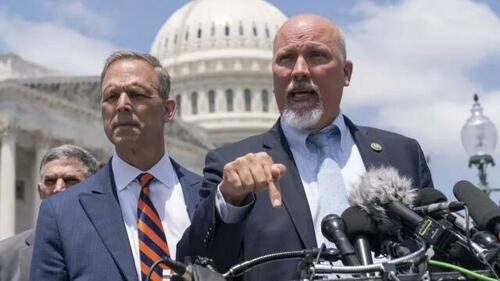 "The House Freedom Caucus opposes the proposed 'clean' Continuing Resolution as it contains no spending reductions, no border security, and not a single meaningful win for the American People," the group said in a Tuesday morning position statement. "Republicans must stop negotiating against ourselves over fears of what the Senate may do with the promise 'roll over today and we'll fight tomorrow.'"
"While we remain committed to working with Speaker Johnson, we need bold change," the Caucus added.
"I'll eat my Thanksgiving dinner sitting right on the floor of the house…I'd be happy to be here on Thanksgiving Day in order to fight to secure the border of the United States."

Rep Roy talks about what's at stake in the fight over the funding deadlinehttps://t.co/UyRipwF8gF

— Rep. Chip Roy Press Office (@RepChipRoy) November 13, 2023
The announcement also comes after GOP leaders announced last night that they would seek to fast-track the bill through a floor vote in order to avoid Republican opposition shooting it down – though it will require support from two-thirds of the whole house, meaning that dozens of Democrats will have to cross the aisle.
An official position from the Freedom Caucus requires support from 80 percent of the group, which has around three dozen members. But the caucus is not unified in opposition to the continuing resolution plan.

Freedom Caucus member Rep. Andy Harris (D-Md.) is an architect of the two-tiered stopgap funding plan. –The Hill
"The two-step CR is a way to get the broken appropriations process back on track without resulting in a massive omnibus spending bill," Harris wrote on X over the weekend.
Loading…