Authored by Matt McGregor via The Epoch Times (emphasis ours),
Former President Donald Trump said recently that "windmills are causing whales to die in numbers never seen before."
His comments, made at a campaign rally in South Carolina, were quickly ground through the fact-checking mills of legacy media outlets such as The Guardian and the BBC.
"They're washing up ashore. I saw it this weekend, three of them came up. You wouldn't see it once a year. Now they're coming up on a weekly basis," President Trump said.
The Guardian called his allegation a "lengthy and largely baseless attack on wind turbines for causing large numbers of whales to die, claiming that 'windmills' are making the cetaceans 'crazy' and 'a little batty.'"
The BBC lamented that clips of the former president's speech had exceeded 9 million views but that his "claims are not backed up by evidence."
President Trump also said only one whale had been killed off the coast of South Carolina in the past 50 years, but now the numbers are increasing.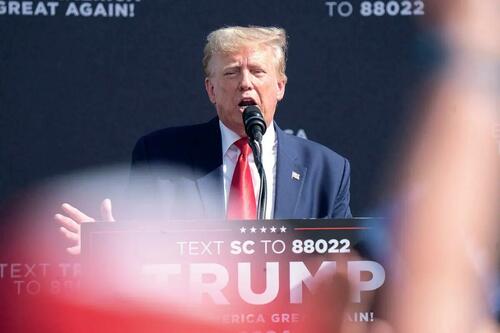 The BBC quoted Rob Deaville with the Zoological Society of London's Cetacean Strandings Investigation Programme, who said whale deaths are caused by the fishing industry and ship strikes.
"To talk about wind farms being a problem takes away discussion around the very real threats that are a problem for those species," Mr. Deaville told the BBC.
He said that there's been no conclusive link between whale deaths and wind farms in the UK.
Andrew Read, commissioner of the U.S.-based Marine Mammal Commission, told The Guardian that "there's no scientific evidence whatsoever that wind turbines, or surveying for wind turbines, is causing any whale deaths at all."
Although there are broader concerns over industrializing the ocean, he said whale deaths are caused by vessel strikes, entanglement in fishing gear, and warming of the ocean caused by climate change.
"The population of humpback whales, in particular, is recovering from being hunted and they are coming closer to the coast to feed on prey, which means they are being hit as they come into shipping lanes, or being caught up in nets," Mr. Read said.
He said people protesting ocean-based wind turbines are being manipulated by "fossil fuel interests," who are threatened by so-called clean energy.
Whales and Turbines
In August, the National Oceanic and Atmospheric Administration (NOAA) reported to The Epoch Times that there had been 65 large whale deaths along the East Coast since December 2022. Three dead whales washed ashore in one week in Fire Island, New York; Long Branch, New Jersey; and Long Beach, New York.
In September, the Biden administration released "An Action Plan for Offshore Wind Transmission Development in the U.S. Atlantic Region."
President Joe Biden's $3.5 billion goal is to deploy 30 gigawatts of offshore wind by 2030.
The plan is based on the "Atlantic Offshore Wind Transmission Study" to coordinate "timely transmission access for offshore wind" and to "evaluate multiple pathways to offshore wind goals."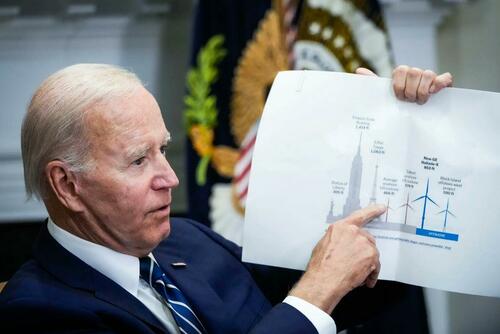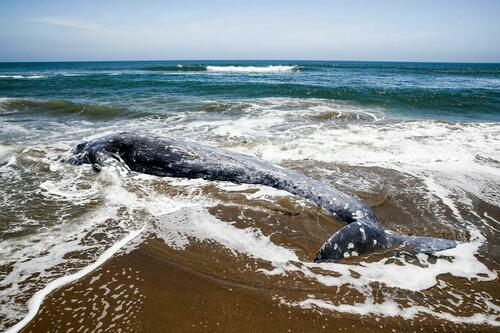 Lisa Linowes, founder of WindAction, said in the recent documentary "Thrown to the Wind" that in its rush to meet these goals, the renewable energy industry has cast aside the "precautionary principle," in which the burden is on the developer to avoid or minimize harm.
Ms. Linowes said the move is costing lives.
"Roughly 350 whales have died along the East Coast since 2016," she said.
The uptick began in 2016, she said, with a slight dip in 2022.
"And in the first six months of 2023—so just half a year—roughly 40-plus whales have died," Ms. Linowes said.
Currently, a total of 3,500 wind turbines are proposed for construction across 2.2 million acres of ocean along the East Coast.
High-resolution geophysical technology is used to survey the ocean floor for the future construction of these turbines. This seismic equipment is sending out frequencies that some believe are blasting the whales and dolphins with loud sounds that have resulted in their disorientation and inability to traverse the waters as safely as they had before.
Robert Rand, an environmental scientist, said the U.S. Bureau of Ocean Energy Management (BOEM) and NOAA haven't accounted for the avoidance and aversion that takes place when the whales hear the pile driving and other dissonant sounds reverberating from the construction of the turbines.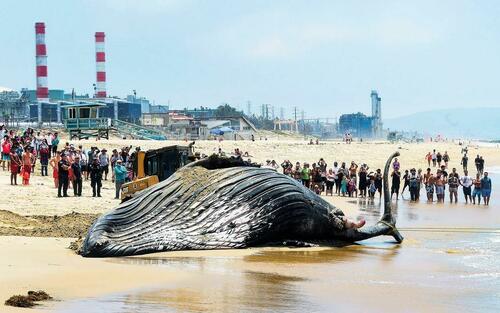 "They don't make the connection between a loud noise in the water and species moving away from that noise, and that's a problem because they don't have the fat stores to run around forever trying to get away from that noise," Mr. Rand said in the film.
"If a calf is separated from the mother, what I understand is both of them start stressing a lot, and it doesn't take long for them to die. It's a very deadly situation. The calf needs the mother for food, and the mother is trying to find the calf."
After the mother and calf expend their energy, they are stranded and they die, he said.
Mr. Rand published an independent technical study in September that examined "geophysical sonar vessel operational noise" for the purpose of improving "noise control protections" for marine life.
"What I'm seeing is troubling," Mr. Rand said. "What I'm seeing are levels that are above the limit which NOAA itself set to be protected at distances which are much higher than were granted in the incidental harassment authorization. So, to me, it looks like an absolute breakdown of regulatory protection for the right whale."
Environmental Groups Silent
When it comes to oil and gas development, environmental groups such as Greenpeace and the Sierra Club will advocate for wildlife, Ms. Linowes said, but in the case of so-called renewable energy, they blame other factors such as ship strikes and climate change, or they keep silent.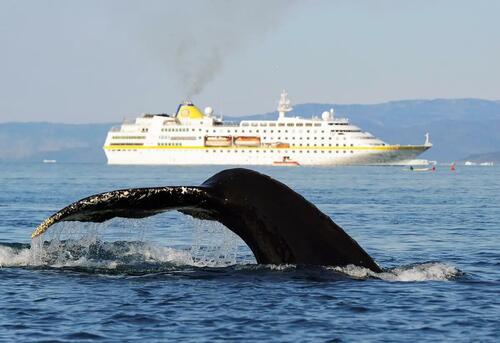 In 2021, the National Marine Fisheries Service concluded that the Rice's whale in the Gulf of Mexico was its own separate species, of which there remained only 50.
In July, NOAA proposed to designate 18 million acres of the Gulf of Mexico from Texas to Florida as critical habitat for the Rice's whale, a proposal that would significantly limit the oil and gas industry from offshore drilling.
Republican lawmakers along the Gulf Coast filed lawsuits fighting the designation, arguing that the proposal wasn't well thought out and would harm the economy, according to a report by The Washington Post.
U.S. District Judge James Cain, appointed by President Trump, agreed and ordered NOAA to withdraw its proposal.
Environmental groups such as the Center for Biological Diversity advocated for the protection of the area, and the group has initiated several lawsuits arguing that offshore drilling is harming ocean wildlife; however, the organization has made no efforts to challenge the offshore wind development impact on whales.
On Sept. 28, the center filed an emergency petition asking that NOAA mandate speed limits for vessels.
Read more here…
Loading…