Speaking at the sidelines of Bloomberg's New Economy Forum in Singapore, Sara Menker, founder and CEO of Gro Intelligence, cautioned that the current food crisis surpassed the one in 2007-08, which ultimately sparked Arab Spring across the Middle East a few years later. This is primarily due to elevated crop prices and steep declines in local currencies against the dollar. 
Bloomberg's Yvonne Man asked Menker: "When we talk about where we see food prices – come off from the record highs of last year. What drives food insecurity is wars, climate change, and economic shocks. And we're feeling that on all fronts right now… So what worries you the most?" 
Menker responded: "It's actually the narrative that food prices have come off the highs, which has been the narrative we're using because we're all following future markets that are all dollar-denominated as a gauge of where food prices are." 
She said, "Year-on-year food prices have come off quite substantially."
"But what has happened in most other parts of the world that import food – is that food prices continue to go up because local currencies are weakening significantly against the dollar," she said, adding, "People eat in local currency and not in US dollars."
She pointed out, "While wheat futures are down double digits year on year – it's up double digits year on year in Egypt because the price of importing wheat has gone up just due to the decimation of the Egyptian pound." 
Menker said in Syria, food inflation is up 2,000%, 1,200% in Lebonan, and 700% in Argentina. She said the food crisis "is far from over for most people in the world." 
Later in the interview, Man asked Menker: "Where are we headed now? Obviously, we look at the 2007-08 food crisis at that time. Are we getting closer to that scenario?" 
Menker's response was apocalyptic: "Actually, I think we are much worse." 
She explained again, "Where food prices are in a lot of countries – if you take it in a local currency basis – food prices are significantly higher when compared to 2007-08." 
Here's the interview.
For some context, after global food prices spiked in 2007-08, in late 2010 and early 2011, discontent over soaring prices triggered the Arab Spring.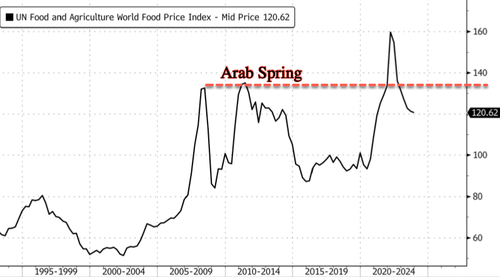 In late 2020, SocGen's Albert Edwards started to warn about the Federal Reserve blowing bubbles during the Covid pandemic and how it could spark a rise in food prices and the usually ongoing risks, such as social-economic instabilities. 
The Food and Agriculture Organization of the United Nations recently warned the world food import bill jumped to nearly $2 trillion in 2022 as many poor countries are on the brink of crisis. 
This time, unlike a decade ago, the Western world has been battered with food inflation crushing tens of millions of low-income folks. 
Everything is fine … 🔥🔥🔥 pic.twitter.com/hEpZZ3moUE

— Wall Street Silver (@WallStreetSilv) November 9, 2023
"There are only nine meals between mankind and anarchy," American investigative journalist Alfred Henry Lewis stated in 1906. 
Loading…