After ADP's reports printed almost perfectly in line with BLS last month (+177k vs +187k), all eyes are on today's print, which was expected to decline to +150k. Instead it plunged to just +89k – that is the lowest jobs addition since Jan 2021…
Source: Bloomberg
The ADP print is around half the expectation for Friday's NFP print of +170k. Large firms dominated the weakness…
Manufacturing and Professional & Business Services saw large declines in jobs (ADP says professional business services down 32K, BUT JOLTS reported a 509K increase in professional and business services job openings!!!!)
"We are seeing a steepening decline in jobs this month," said Nela Richardson, chief economist ADP.

"Additionally, we are seeing a steady decline in wages in the past 12 months."
Job stayers saw a 5.9 percent year-over-year pay increase in September, marking the 12th straight month of slowing growth.
Pay gains also shrank for job changers, to 9 percent, down from 9.7 percent in August.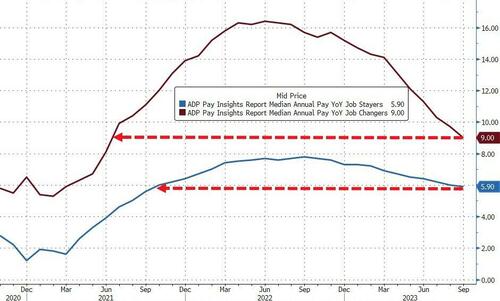 Wage growth for women – across all age cohorts – is faster than for men…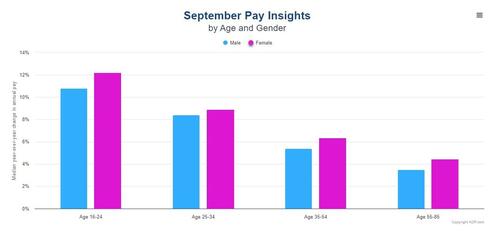 Finally, as we noted recently, the ADP Research Institute, the research arm of the payroll processing firm, released a new report about a 'real-time way' to measure worker motivation. What they found is that a majority of workers aren't motivated, and this might impact long-term productivity. 
Researchers said, "We designed the Employee Motivation and Commitment Index as a tool to help define optimal functioning for employees and specific roles within an organization. The score measures how employees feel about their place at work and whether they're thriving and growing." 
ADP researchers survey 2,500 workers each month and have noticed the EMC index has slid throughout 2023:
 "In August 2023, the EMC Index fell from 108 to 100, its lowest point since June 2022. The index peaked in December 2022 at 121 after a year of robust pay growth, strong hiring, and the rise of remote work."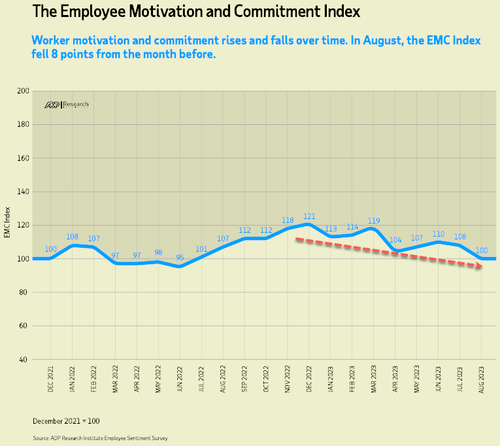 They said, "We found a strong relationship between output and worker motivation and commitment." And noted, "A person's industry might influence their level of motivation and commitment." 
The biggest takeaway is that most workers aren't motivated at work, which could soon impact productivity. There was no clear explanation as to why workers are slacking off, whether they believe their labor is worth much more (look what's happening with the unionized workforce) or if these folks are spending too much time on TikTok.
Workers who are unmotivated in low-skilled/low-paying jobs must understand automation and artificial intelligence will displace them by the end of the decade. Now is the time to get retrained in a field less likely to be replaced by robots (here's a tip: become an airline pilot). 
Sliding motivation at work is yet another ominous sign 'Bidenomics' is a failure. 
Loading…