After ADP printed dramatically lower than BLS for September's payroll data (+89k vs +336k)…
Source: Bloomberg
…analysts' expectations were for a rise to +150k job additions in October, but for the 3rd straight month, ADP disappointed with a +113k print (+150k exp).
Source: Bloomberg
The ADP print is well below the +180k expected for Friday from BLS.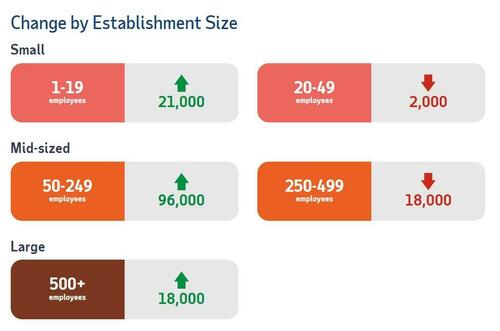 Services sector once again dominated the good sector with "No single industry dominated hiring this month, and big post-pandemic pay increases seem to be behind us," said Nela Richardson, chief economist, ADP.
"In all, October's numbers paint a well-rounded jobs picture. And while the labor market has slowed, it's still enough to support strong consumer spending."
Finally, as a reminder, September saw 'Professional & Business Services' sector lose 32k jobs according to ADP, whereas JOLTS saw a stunning increase of 509k job openings in that sector. October's ADP data showed a 10k job loss… what will JOLTS show at 10amET…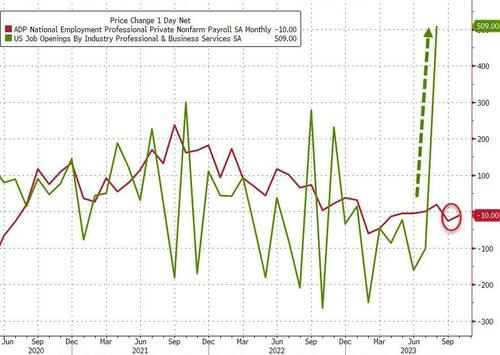 Source: Bloomberg
October saw the 13th straight month of declines in wage growth – to the weakest growth levels since Q3 2021. Job stayers saw a 5.9 percent year-over-year pay increase in September, marking the 12th straight month of slowing growth. Pay gains also shrank for job changers, to 9 percent, down from 9.7 percent in August.
Source: Bloomberg
but the actual pace of wage gains remains well above The Fed's inflation targets for both job-stayers and job-changers.
Loading…