A voting rights organization founded by two-time gubernatorial-election loser Stacey Abrams and later led by current Senator Raphael Warnock has been accused of financial mismanagement and misuse of donated funds, according to a Politico exposé published Monday. 
The New Georgia Project has been credited with flipping the state into the Democratic column and helping to remove President Trump from the White House. The group raked in more than $36 million in 2020 alone. However, the group that made Abrams a Democratic darling is now the latest case study in poor financial discipline at a liberal-catering political entity.
Nsé Ufot, a former executive director who was chosen by Abrams in 2014 and suddenly terminated last year, owes the New Georgia Project thousands of dollars for money spent on "non-work-related" expenses, according to tax filings. Her questionable expenses include money spent on Hulu, Uber Eats, Apple and Lyft, according to two former employees. 
In her defense, Ufot told Politico the allegations are "a fucking lie," elaborating that she refused to hold meetings without "food, music and child care." 
The organization's financial slop is varied. One major cause of trouble is a practice of issuing Visa gift cards to employees to use on company expenses, with no controls on the back end to make sure the cards were used legitimately. The group also issued salary advances without proper accounting, Politico found. One of Ufot's deputies was accused of improperly withdrawing $50,000. 
The group's bank, Wells Fargo, issued multiple fraud alerts flagging suspicious withdrawals. Ufot said she ignored them at first — "whatever" — but then alerted the CFO. She said he told her to call the bank. She says she did, but never officially filed fraud claims because Wells Fargo said it would shut down the company cards "immediately," which she said would be disruptive.  
New Georgia Project board chair Francys Johnson said the poor financial management resulted from hiring marginalized people who lack financial acumen — and scorned those who would fault them for doing so:
"It goes back to people who disdain the kind of communities we serve and disdain the kind of people we seek to employ. They believe that we need to have a bunch of Northeastern educated folks who come down and freedom rides, we love to talk about that, and help them liberate the South, as if the South can't help liberate itself.

And so we hire people from community, we hire people who live on the margins, primarily because politics has failed them. And we have to deploy tactics that are not necessarily consistent to what POLITICO might have."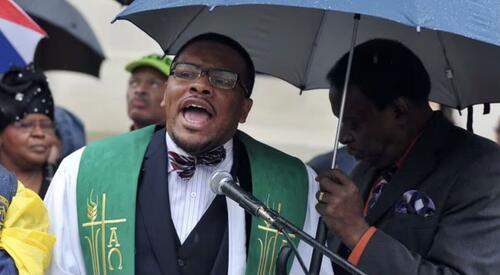 Employees say Ufot and Johnson clashed over a $1.5 million contract for marketing services, with Johnson angry over the cost and Ufot's choice of vendor. Ufot stands by her choice, saying, "It was a $15 million campaign that they charged us $1.5 million for. Because they believed in what we were doing." She also was drawn the vendor because they were "unapologetically Black and female." 
On top of the accusations of financial mismanagement, the New Georgia Project is also contending with a state ethics  inquiry into whether its election advocacy ran afoul of prohibitions on direct political action by nonprofits.  Abrams left the group in 2014. Warnock ran it from 2017 to 2020. 
Some former employees are disappointed by their experience with the organization. "I went there all bright-eyed and bushy-tailed, but I'm disillusioned now," a former senior employee told Politico. "I got the assumption that it was driven by ego after the 2020 elections. That there was this [attitude of] 'We can do anything we want, look at how much money we got.' … I think these things combined with no checks and balances, not having an operations department in place that is allowed to put in policies, procedures and safeguards — which is what I thought I was hired to do — and the rapid growth has just facilitated this."
Politico's revelations are just the latest example of alleged financial misconduct at liberal donation magnets. In May, we reported on Black Lives Matter teetering on bankruptcy as it continued shelling out millions of dollars to executives and relatives of co-founder Patrisse Cullors. More recently and across the ocean, a UK BLM activist was sentenced to 2 1/2 years in jail for using £32,000 in donor money to underwrite her lavish lifestyle.
Loading…