Era Of Remote Work Ends For Millions Of Americans
Authored by Jane Nguyen via The Epoch Times,
Millions of Americans stopped working from home in 2022, according to a Labor Department report released on March 22.
The agency said that 72.5 percent of establishments, defined as each business location, reported little to no telework among employees between August and September 2022, a 12.4 percent increase from 2021.
Before the pandemic upended the workplace, 76.7 percent of companies reported little to no remote work among their employees.
The percentage of employers reporting that all of their employees were teleworking did not see significant change in 2022, at about 11 percent compared to about 10 percent in 2021.
The percentage of establishments reporting that some of their employees were working from home dropped in 2022. About 16 percent reported that they had some employees working from home, compared to about 30 percent in 2021.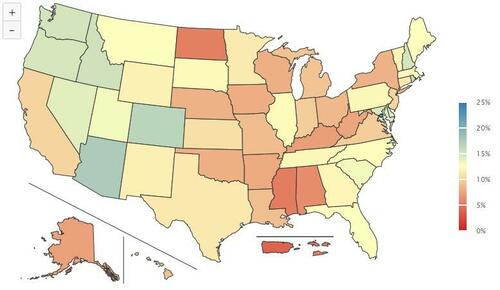 Remote work isn't completely ending, as companies in "university towns, tech hubs, and government centers," per Bloomberg, have continued to offer remote positions in 2023.
In a survey conducted by the employment website ZipRecruiter, job seekers, on average, said they would take a 14 percent pay cut in order to work remotely.
Hybrid Work
Employers have recently been pushing harder to get staff to work on-site more often, as fears of the economic downturn prompt an increased emphasis on worker productivity.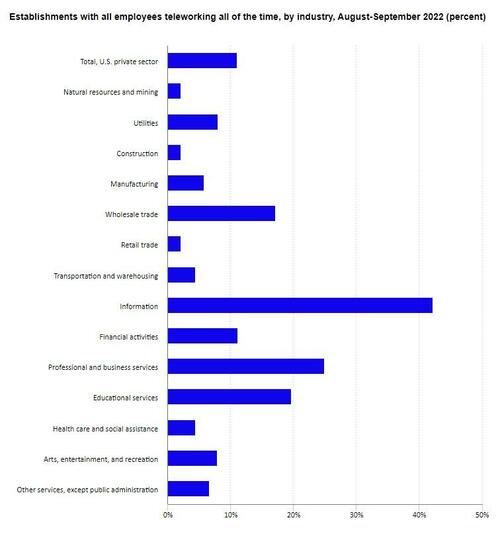 Major companies such as Twitter, Disney, and Meta are expecting employees to come into the office more frequently.
Elon Musk ended Twitter's "work from anywhere policy" after acquiring the company last year, saying he would require them to work at least 40 hours a week from the office. Walt Disney Co. has recently pushed for four days a week on-site.
This month, Meta Platforms Inc. Chief Executive Mark Zuckerberg told employees that in-person time helps build relationships and get more done.
"Our hypothesis is that it is still easier to build trust in person and that those relationships help us work more effectively," Zuckerberg wrote in a letter to employees.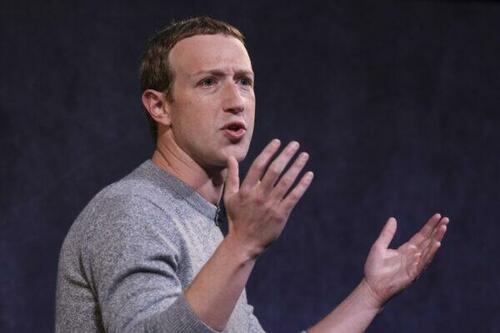 Meta CEO Mark Zuckerberg speaks at an event in New York, on Oct. 25, 2019. (Drew Angerer/Getty Images)
"There's a sense that innovation, creativity, and collaboration can suffer when teams are apart," Mike Steinitz, senior executive director at Robert Half, told The Wall Street Journal.
The most common remote work situation is now hybrid work, with employees spending some days in the office and some working remotely, the New York Times reported.
Moreover, it has been a challenge to revoke remote work once it has been implemented.
"Many, many companies in recent months have insisted that people come back to the office five days a week, only to reverse that mandate within about a week after hearing that they'd lose their best and brightest," Julia Pollak, the chief economist ZipRecruiter, told the outlet.
In a Robert Half survey last year, 66 percent of managers wanted their teams to work on-site full time, and that 50 percent of workers would quit and find a new job rather than be forced back to the office.
Loading…