Used-Car Prices See Largest Monthly Increase Since Late 2021
Cox Automotive reported that its Manheim Used Vehicle Value Index (MUVVI), which tracks the auction prices of used cars, increased in January compared to December. This is a concerning sign after a year of declines as used car prices are slightly rebounding. 
MUVVI increased by 2.5% in January compared to December — this was the largest month-over-month percentage increase since the end of 2021. The index stood at 224.8, down 12.8% from a year ago. 
"In January, Manheim Market Report (MMR) values saw price increases that were not typical, culminating in a 1.2% total increase in the Three-Year-Old Index over the last four weeks," Cox Automotive said in the report. 
Just in:

Used car prices officially increased 2.5% in January.

The *largest* month-over-month percentage increase since end of 2021. pic.twitter.com/vSr6YhOK2y

— CarDealershipGuy (@GuyDealership) February 7, 2023
Cox Automotive wrote that all eight segments of the used car market recorded seasonally adjusted prices that were lower year-over-year in January. Pickups had the smallest drop at 8.4%, followed by compact cars, down 10.7%, and vans, down 11.2%. The other five segments' prices were also lower. Compared with December, eight of the major segments' performances were up between 0.8% and 3.6%, with pickups showing the strongest percentage gain.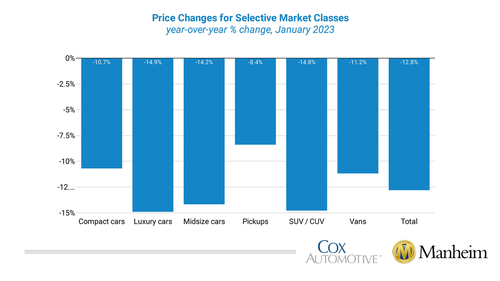 Even though auction prices of used cars will likely be down further in year-over-year terms in 2023, the sudden acceleration on a monthly basis to start the year might add some anxiety for those betting on quick disinflation. 
Loading…