Intel Craters After Shockingly Bad Earnings, Catastrophic Guidance
Just when you thoughts that – even purely on a statistical basis – Intel was overdue for an earnings beat after no less than 9 consecutive earnings disasters in the past 10, moments ago the company managed to do the seemingly impossible and sent its stock plunging yet again after reporting not just big misses for Q4 but worse, guiding catastrophically for Q1.
Here's what INTC just reported for Q4:
Adjusted EPS 10c, down 92% (yes you read that right), and missing both the estimate of 19c and 10c below the company's own guidance
Revenue $14.04 billion, down a massive 28% Y/Y, and missing estimates of $14.49 billion. This was the lowest quarterly revenue since 2016!
A breakdown of the various revenue streams

Client Computing revenue $6.63 billion, missing estimates $7.42 billion
Datacenter & AI revenue $4.30 billion, beating estimates $4.05 billion
Network & Edge revenue $2.06 billion, missing estimates $2.21 billion
Accelerated Computing Systems & Graphics revenue $247 million, beating estimates $203.4 million
Mobileye (spun off) revenue $565 million, beating estimates $435.1 million
Intel Foundry Services revenue $319 million, estimate $191.5 million

Adjusted operating margin 4.3%, badly missing estimates of 7.22%
Adjusted gross margin 43.8%, missing estimates 45%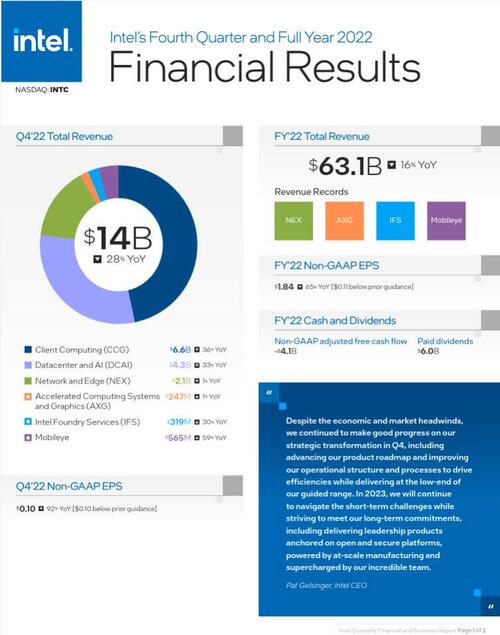 So yeah, very bad. But not as bad as the company's dismal Q1 forecast which was catastrophic compared to consensus expectations:
Sees adjusted revenue $10.5 billion to $11.5 billion, some $3 billion below the estimate of $13.96 billion
Sees adjusted loss (yes, loss) per share 15c, badly missing the estimate of an EPS profit of 25c
Sees adjusted gross margin 39%, just as badly missing the estimate 45.5%
The outlook reflects the myriad challenges facing Intel, which was attempting to stage a comeback even before the market for personal-computer chips — its main source of revenue — fell into a slump. To get back on track, the company needs computer makers to quickly work through inventory stockpiles and return to ordering components. That would provide Intel with a revenue boost needed to help shore up its finances, which were already stretched by ambitious plans to regain technological leadership within the chip industry.
CEO Pat Gelsinger tried his best to put some lipstick on this particular pig and failed noting that  "despite the economic and market headwinds, he continued to make good progress on our strategic transformation in Q4, including advancing our product roadmap and improving our operational structure and processes to drive efficiencies while delivering at the low-end of our guided range."
Very low end he should have clarified; he went on "In 2023, we will continue to navigate the short-term challenges while striving to meet our long-term commitments, including delivering leadership products anchored on open and secure platforms, powered by at-scale manufacturing and supercharged by our incredible team."
But what is even scarier is his admission that he is seeing the largest every inventory correction by customers in Q1, which in turn is impacting the revenue outlook.
Here one wonders just how difficult is it to slash prices and clear out inventories while guiding lower so that the stock actually rises on earnings for once? Apparently very, because as shown below, INTC stock has tumbled on 9 of the past 10 earnings reports!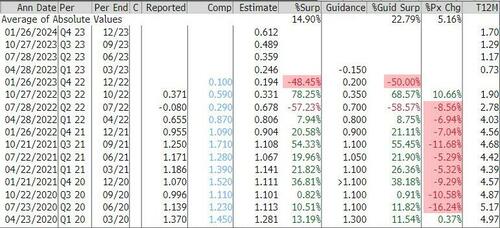 And with today's disastrous report which has dragged down the entire semiconductor sector lower, one can make that 10 of the past 11: INTC stock is down more than 8% after hours as the market can't believe just what a complete mess this company has become. And with today's wipeout, the stock has vaporized almost all of its 14% in gains in 2023, following an absolutely gruesome 2022.
The catastrophic report has dragged down shares in the entire semiconductor space: Advanced Micro Devices -1.2%, Nvidia -0.8%, Qualcomm -1.6%, The VanEck Semiconductor ETF fell 0.7%, which had surged in recent weeks on China reopening hopes.
Loading…