PayPal Is Buy, Just Not Yet | Investing.com
The macro climate and the realization that COVID growth rates were only temporary are severely damaging PayPal's stock

However, the company remains strong operationally and can continue to grow EPS at ∼20% CAGR over the next few years

Q3 earnings might disappoint, but that could mean a buying opportunity
As an online payments company, PayPal Holdings, Inc. (NASDAQ:) has been particularly vulnerable to the current gloomy macro environment. The last several misses and guidance revisions—there seems to be another one coming up—have brought the company's share price down by 56% YTD.
Source: InvestingPro
The challenges PayPal will have to navigate are increasingly tough competition and the difficulty in monetizing Venmo in the context of a looming recession. Yet, with an unrivaled customer base in the online payments space, a strong operational outlook, and the stock trading near all-time low multiples, it might soon become too good an opportunity to pass on.
The PayPal Holdings Ecosystem
PayPal holds a unique position in the global payments industry as it operates and owns both the customer and the merchant side, enabling P2P (peer-to-peer) payments through Venmo and payments solutions service Braintree. Aside from online payments, the company offers branded Venmo and PayPal credit and debit cards, including a Buy-Now-Pay-Later (BNPL) service.
Its latest revenue stream consists in offering credit and working capital to merchants, similar to Block (NYSE:) and Shopify (NYSE:). The holding company's Total Payments Volume (TPV) is currently equally split between core PayPal payments, Braintree, and Venmo.
The San Jose, California-based company is struggling to monetize the faster-growing sections of its business, such as Venmo – its main use now being user engagement and acquisition. Venmo's transactions are mostly P2P, which is barely profitable. Only when users use Venmo to pay a merchant does the company make a significant fee. At the same time, the profit-driving core payments section is beginning to mature and show signs of saturation against an increasing number of competitors.
The result is a decrease in revenue per TPV, which fell from 2.50% in 2019 to 2.04% in 2021. Essentially, revenue per transaction is decreasing as the less-profitable sections of the business increasingly drive growth.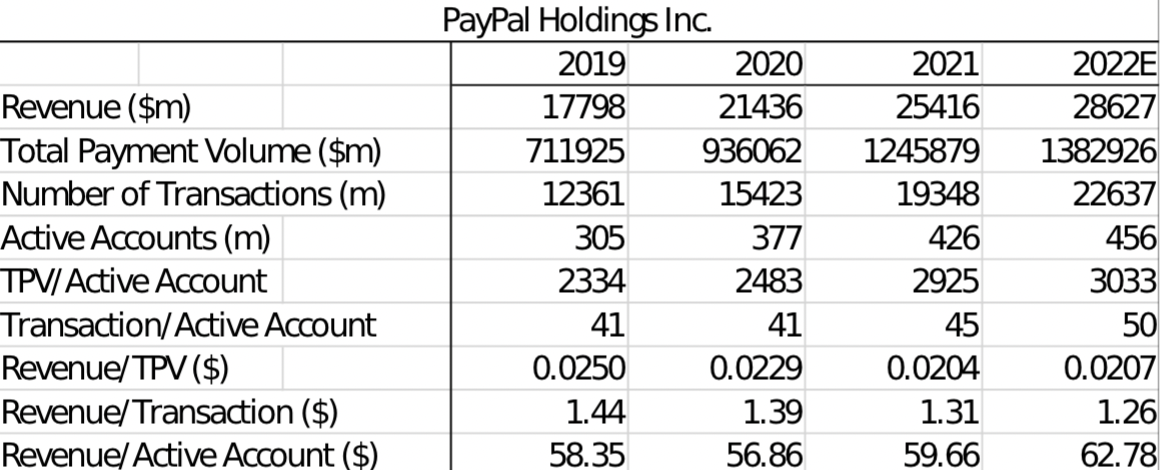 Source: PayPal Holdings
A worsening macroeconomic environment is also a factor that cannot be ignored.
Following a clean-up of ghost accounts, it has become clear that net new active user growth has begun to slow down. and the increasing certainty of a recession have begun to impact consumer spending, especially online, where it is more likely to be discretionary than necessary.
Total accounts measure in at 429m as of 2Q22, but the company has lowered its FY22 guidance from +15-20m accounts to only +10m. These pressures are bound to continue as macro conditions worsen further.
Competition in the Fintech space gets tougher by the day, with more and more firms fighting for market share and little room for product differentiation. PayPal stands out as one of the few profitable companies, especially compared to its main competitors, Block and Shopify. Yet, as of late, PayPal has also had to stand up to the big banks which have entered the market with Zelle, now the largest payments app by TPV at $490b versus PayPal's $229b.
Growth Case
Despite the many challenges, there is still a strong case for the company in the long term. The PayPal brand is unlike any other in a market with many competitors offering similar products. As the company's CEO Dan Schulman explains, "consumers trust and know the PayPal brand."
Once you open a PayPal account, it is very unlikely for you to switch, given the time savings and convenience of the service. A recent consumer survey revealed that 60% of consumers would prefer to use PayPal to do an online checkout, with the next digital wallet faring at 8%.
PayPal's strong user base has other advantages. Like many of its competitors, PayPal has launched a BNPL service. Unlike its peers, though, PayPal has 430 million active users to who they can cross-sell. Competitors will need to spend more time and resources to reach the same scale.
PayPal's investment in P2P payments is also beginning to pay off. Despite the monetization issues discussed above, Venmo is rapidly increasing its reach and starting to prove that it can be profitable in one way or another. The service will be active for checkouts on Amazon (NASDAQ:) by the end of the year: a win for the company's income statement but, most importantly, for its revenue growth prospects. Amazon will be paying a fee to Venmo when it is used for payments, and the partnership is sure to bring agreements with other big retailers.
There are also promising signs extrinsic to the company's operations. Elliot Management, the renowned activist investment fund, has built up a significant stake in the company and is advocating for buybacks and cost savings to boost profitability and stock price. The payment group seems to be cooperating and is already set to save roughly $900m this year and $1.3b by next year, which will have a mid-single-digit positive impact on EPS.
Valuation
PayPal's TPV was $340b in 2Q22, yet growth slowed from 40% to 9% YoY. Given the current macroeconomic climate, a further slowdown should not come as a surprise. The company has already lowered its guidance for 3Q22 and might do so again.
Source: PayPal Holdings
I expect 3Q earnings to disappoint, but after that might just be the best time to buy. The P/E isn't going to get much lower than x21 in its FY22 earnings – anything under that would be a steal. The relatively poor performance by PayPal recently shows that investors are beginning to understand that the COVID e-commerce boost has come to an end. The stock has been punished heavily, with its multiple compressing substantially.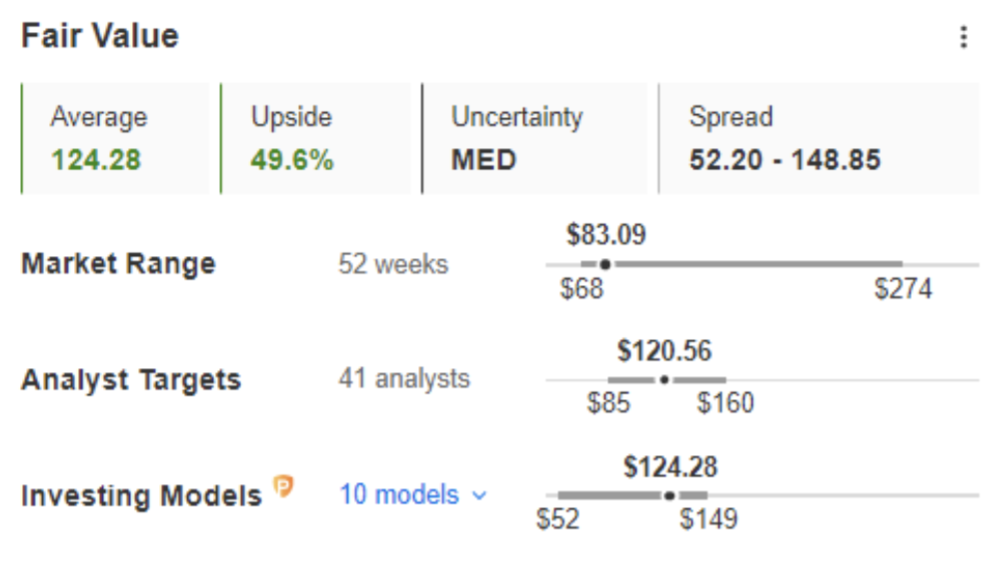 Source: InvestingPro
Bottom Line
PayPal may not be the high-growth story it was five years ago, but it continues to grow its FCF at a mid-double-digit rate and estimates 3-5 year revenue growth at 20%. With Elliot pointing management towards profit and away from growth, this next phase of 'maturity' seems promising.
Disclosure: At the time of writing, the author did not own shares mentioned in this report.