Russia Avoids Default After $117 Million Eurobond Coupons Funds Sent To Citigroup
After Wednesday concerns that holders of Russian government dollar bonds may be hosed amid a lack of confirmation that interest payments had been successfully made, Bloomberg reports that JPMorgan has indeed processed the funds, which have been forwarded to Citigroup, according to people familiar with the matter.
JPMorgan was the correspondent bank Russia used to send the payment to Citigroup, which is acting as payment agent on the bonds, the people said, asking not to be identified discussing a private matter. JPMorgan sent the money to Citigroup after it sought and received the required approvals from U.S. authorities on Wednesday, one of the people said. -Bloomberg
At issue were two dollar-denominated government bonds which have $117 million in interest due today. Had they failed to pay, or had Russia attempted to pay them in rubles instead of dollars – it would have potentially placed Russia in default by its creditors. As discussed on Tuesday, the bonds have a 30-day grace period, so creditors can't officially declare default until April 15.
The 4 7/8ths of Sep 2023 shot higher (in price) by $10 on the coupon payment…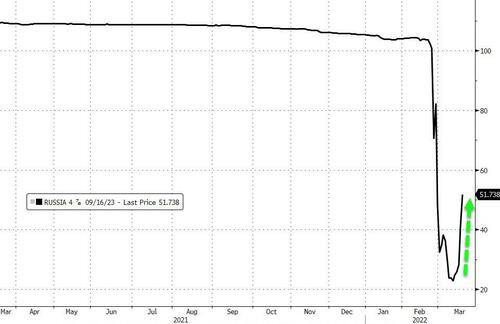 The Russian Finance Ministry said it sent the funds on March 14 to an unidentified correspondent bank, and said it would issue a later comment on whether Citibank's London branch – the paying agent, had received it.
That said, while the funds have been processed, bondholders in Europe say they still haven't received the funds which are in Citibank's possession.
The New York-based Citigroup collects payments from bond issuers and distributes payments to investors.
According to the US Treasury, payment of interest on the bonds issued before March 1 by Russia's central bank national wealth fund or finance ministry is permissible until May 25, per the Journal, after which a specific Treasury-approved license will be required to continue to receive interest, dividends, or maturity payments on Russian government debt. Under those rules, analysts expect that the Kremlin will be able to continue satisfying its foreign-currency debt in the coming weeks.
But this process is far from over yet as there are far more coupon and principal payments to be made…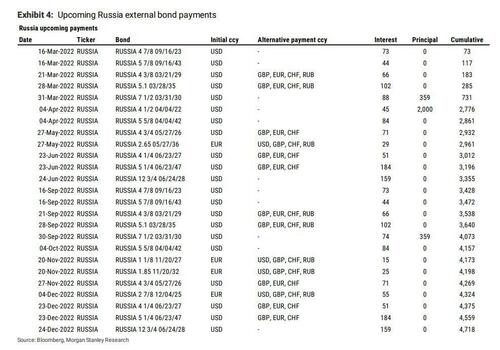 With two full maturities on March 31 and April 4th.