LME Re-Opens Nickel Trading; Quickly Halts Again On Limit-Down Band "System Error"
Update (0650ET): "What a debacle," said Ole Hansen, head of commodities strategy at Saxo Bank A/s. "The LME is not doing itself any favors."
After reopening the LME for nickel trading this morning, following the bailout of Chinese commodity tycoon Xiang Guangda, the Chinese-owned (HKEX) exchange for forced to suspend trading soon after the open due to a "system error" which had led to some trades to be executed below the new price limits laid out by the exchange.
As Bloomberg reports, only 206 lots, or 1,236 tons of nickel, changed hands before the market stopped trading within seconds on Wednesday morning. Most of those trades took place at the limit price of $45,590 a ton. Several trades appeared to be at prices below the 5% limit.
"In some sense it went as expected, in that we all expected it to fall, but it was just a question of how quickly," Colin Hamilton, managing director for commodities research at BMO Capital Markets, said by phone from London.
The LME introduced price limits before reopening today to prevent a repeat of the chaos last Tuesday, when it suspended trading as prices roared to record highs above $100,000 a tonne. In a statement the exchange said:
"As the market opened, the uncrossing algorithm discovered an opening price of $45,590 (which was the lower daily price limit, i.e. 5% below the prices published in Notice 22/067) for 3-month Nickel.

"Unfortunately due to a systems error, LMEselect then allowed a small number of trades to be executed below this lower daily price limit.

"The LME immediately decided to suspend Nickel trading on LMEselect while the system error is investigated."
The LME said that all nickel trades executed at the lower price on LMEselect, its trading system, would now be cancelled.
This 'cancellation' decision follows the highly controversial move from the LME to cancel $3.9bn worth of trades last Tuesday as the market surged.
*  *  *
As Emel Khan detailed for The Epoch Times earlier, Nickel trading resumed on the London Metal Exchange (LME) on March 16 after being suspended for more than a week.
The exchange took an unprecedented step to halt trading in the nickel market on March 8 after a Chinese metal tycoon faced billions of dollars in losses due a large short position.
Last week, nickel's price skyrocketed, crossing the $100,000-a-ton mark for the first time. This was a big spike compared to the prices that averaged $24,016 per metric ton in February. The extreme volatility forced the LME to suspend trading for the first time since 1988.
The base metal is an increasingly important component in the production of next-generation electric vehicle batteries for companies like Tesla. Advocates of green energy push see rising nickel prices as a threat to President Joe Biden's climate agenda.
To avoid large swings in price, the exchange also announced that it would apply daily upper and lower price limits.
The huge spike in nickel price last week was mainly driven by a short squeeze centered on Chinese tycoon Xiang Guangda, founder of Tsingshan Holding Group, one of the world's biggest nickel and stainless steel producers.
Nicknamed "Big Shot" in China, Xiang is known for having confidence in making huge bets, according to Bloomberg. He believes that the prices of nickel would fall due to a dramatic increase in supplies. Many hedge fund managers, however, don't share the same view.
When nickel's trading price surged dramatically last week, Tsingshan struggled to pay margin calls, putting its creditors in a difficult position. The price rise was further fueled as brokers and bankers of Tsingshan rushed to buy back nickel contracts to stem losses. The exchange stopped nickel trading after several small brokers claimed that they would default if prices remained at record levels, according to a Wall Street Journal article.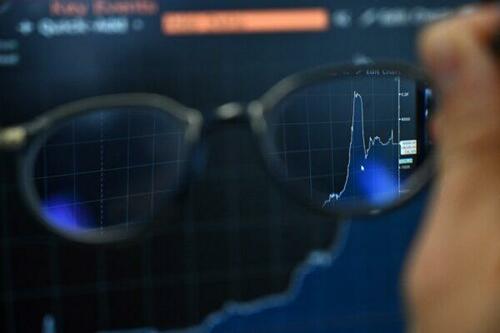 A journalist poses with their glasses while looking at a computer screen with the Bloomberg display showing a one-day view of the rise and fall in the value of the nickel, in London on March 8, 2022. (Ben Stansall/AFP via Getty Images)
Matthew Chamberlain, CEO of LME, defended the exchange's decision to suspend nickel trading, saying that it was the right thing for the long-term stability of the market.
"It would have been extremely difficult for some of our market participants to continue their activities," Chamberlain said in an interview with Bloomberg. "The ability of the financial system to get that money to the members in London and then into the exchange I think would have been significantly stressed."
According to Financial Times, the exchange canceled all 5,000 nickel trades worth nearly $4 billion that had been executed on March 8.
LME Frustrates Traders
The exchange came under fire for undermining free markets and causing moral hazard. The LME's move has angered some market participants who have lost out on profits from the cancellation of trade.
Clifford Asness, co-founder of AQR Capital Management that oversees $140 billion in funds, accused LME on Twitter.
"Stealing money from market participants trading in good faith and giving it to Chinese nickel producers and their banks—who could have absorbed the losses–yea, integrity," he wrote.

"For the LME to cancel nickel trades between willing buyers and sellers is unforgiveable. UNFORGIVEABLE," Mark Thompson, a metals trader and executive vice chairman at Tungsten West Ltd., wrote on Twitter.
LME's decision to shut down trading "is going to be litigated for a long time," according to Christopher Balding, a China economist and a senior fellow at the Henry Jackson Society.
"Let me repeat that: the LME a major global commodity exchange shut down trading in nickel so a Chinese company wouldn't go bankrupt," he wrote on Twitter.
"Because the Hong Kong Exchange OWNS the London Metals Exchange, and guess who owns HKEX? First letter is a C third letter is a P won't tell you the middle one," he wrote, implying that the Chinese Communist Party (CCP) might be involved in the bailout of the Chinese tycoon.
The Hong Kong stock exchange has owned the London Metal Exchange since 2012.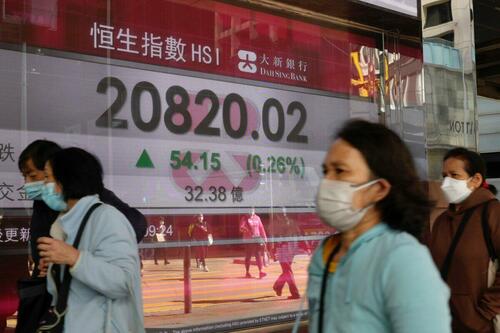 People walk past a bank's electronic board showing the Hong Kong share index at Hong Kong Stock Exchange, on March 9, 2022. (Vincent Yu/AP Photo)
Tsingshan has reportedly reached a deal with its bankers and brokers, including JPMorgan Chase and Standard Chartered to avoid defaulting on its margin calls. According to media reports, the agreement has given Tsingshan and its creditors time to hammer out a deal on a new credit facility for the payment of margin.
It's unclear whether the CCP was involved in these discussions and pressured the LME or Tsingshan's banks to take action to save the Chinese company.
The banks are taking a longer view as they think it is a temporary anomaly, according to a senior executive at an investment management firm in New York who wished to remain anonymous.
"They don't want to bust a perfectly healthy company in a normal situation and lose a revenue stream because they're providing ongoing lending and brokerage services," he told The Epoch Times.
According to ING Bank, nickel has been trading in crisis mode and fundamentals "do not justify this frenzy."
"It remains to be seen how this crisis ends," Wenyu Yao, senior commodities strategist at ING wrote in a recent note.
"However, the market has long been faced with structural issues. In particular, the exchange tradable/deliverable nickel is only around a quarter of global saleable nickel. But the supply growth is increasingly dominated by non-exchange deliverable nickel such as NPI or matte. This suggests that the underlyings behind the exchange nickel are increasingly decoupling from the real market."