JPMorgan's Trading Desk Scrambles To Contain The Fallout From Today's Crash
After a catastrophic day for markets, which saw the S&P suffer its worst one-day loss since 2021 and the Nasdaq tumble the most since 2020, Amazon arrived with what was a Hail Mary earnings report which sent its stock soaring, and helping cut the Nasdaq's nearly 4% loss in half, but as we noted earlier – aside for the Prime membership hike and the solid AWS results – the earnings report was actually not all that good, and the once legendary growth is now gone.
Indeed, as Bloomberg echoes our skepticism, Nasdaq futures have bounced hard in early trading, but some of the details coming through on Amazon's business outlook seem a bit less exuberant than seen at first blush: while investors "may have been bracing for the worst, following Meta's disappointing revenue forecast and surprising business pivot towards short form video. But Amazon's e-commerce sales numbers are still mixed. Its online stores revenue growth rate is slowing and for the third quarter in a row the company gave a sales forecast markedly below Street expectations. Yes, the Prime Membership price hike and Amazon Web Services growth are a positive, but the company's core e-commerce business is showing no sign of a rebound yet."
Worse, as we first showed, margins for both North America and International e-commerce are now negative and only AWS is keeping the company afloat.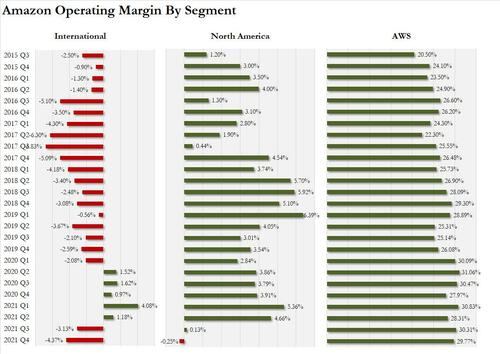 Perhaps realizing the tenuous nature of the after hours bounce, JPMorgan's trading desk is out this afternoon with an attempt to contain the dismal mood that has gripped markets (now that not even Marko Kolanovic's weekly permabullish sermons do much to boost market optimism). Here is what the bank's trader Andrew Tyler wrote:
The FB-induced selloff took MegaCap Tech with it but what is interesting is the relatively muted reaction in Equity vol, especially considering the moves in the 10Y yield (product of BOE/ECB today).

For avid readers of this note, you will recognize the MOVE Index vs. VIX Index chart but there are some additional vol-related charts below.

My conclusion is that today's action is expressing a view that this is idiosyncratic rather than systemic in nature. AMZN earnings can help stabilize the NDX. One part of the Bear thesis has been that Tech is in bubble territory. Marko points out that FB's FY2022 P/E is now trading at 19% discount to that of the SPX (16.3x vs. 20.1x). FB's forward PE is lower than any broad market at any point since 2014, ex-Mar 2020. This includes times when Fed Funds was at 2.5% vs. current ZIRP level.

His conclusion is that talk of a Tech Bubble seems misplaced, especially when we have Tech stocks that are now technically Value stocks.
Despite his uplifting undertone, Tyler concludes cautiously, writing the he remains of the view "that it is prudent to wait until you see the combination of Fed clarity (which may come post CPI print next Thursday) and VIX under 20." Those two conditions need to be satisfied before we can see a sustainable rally, according to the JPM trader.
Where to hide in the mean-time? His advice is to "consider commodities or commodity-related equities."