Panic-Bid Rescues Nasdaq (Barely) From Worst January Ever As Rate-Hike Odds Soar
Tl;dr… January was this…
'Bubble' Markets continued to blow up in January (with the now ubiquitous month-end rebalance bounce of hope)…
Source: Bloomberg
This came as US financial conditions tightened significantly (ex-March 2020, this is as big a tightening as in Q4 2018 just before Powell folded). Bear in mind just how much 'easier' financial conditions are still than the 'easiest' they have been for the last decade…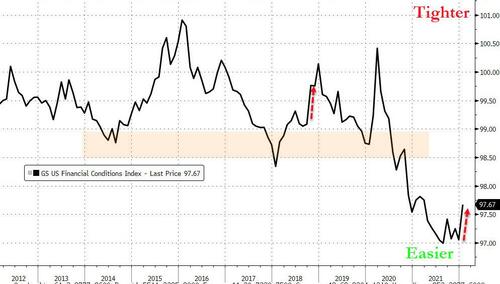 Source: Bloomberg
But, most notably, Global financial conditions are now tighter than they were pre-COVID-Lockdowns…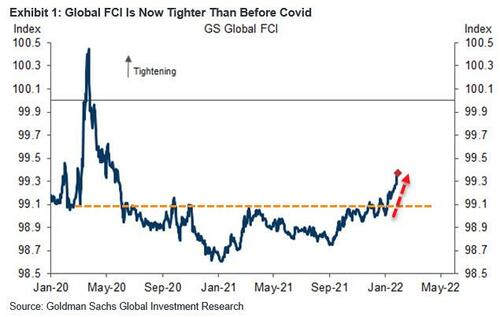 Source: Bloomberg
January saw a 'balanced' bond-stock portfolio suffer the worst monthly performance since March 2020, and before that Feb 2009…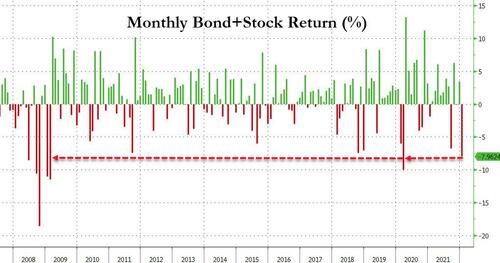 Source: Bloomberg
Thanks to today's rebalance/meltup (especially into the close), Nasdaq narrowly avoided its worst January ever, instead suffering its worst January since 2008, S&P and Russell 2000 had their worst January since 2009. Small Caps were the laggard in January, down around 10%, Nasdaq next down around 9%, Trannies closed the month down just over 7%, S&P down 5% and The Dow down over 3%…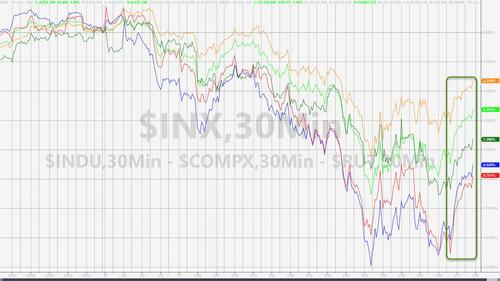 Nasdaq Comp's worst Jan ever was in 2008 (-9.89%), which implied a close today of 14089… look how hard the machines worked to keep Nasdaq above that level…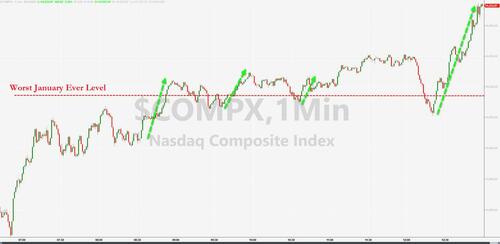 Interestingly, The Dow has now had 3 straight years of a negative return in January.
For context, including the rally of the last couple of days into month-end, Small Caps close January down 17.5% from ATHs, Nasdaq down 12.5%, S&P down over 6% and The Dow down over 5%…All of these are the biggest drawdowns since the COVID crash in 2020…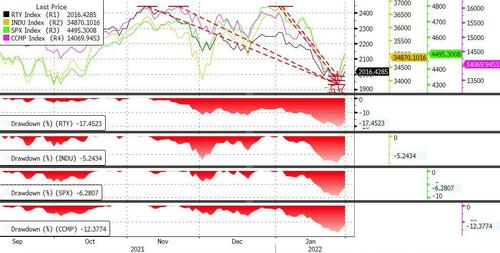 Source: Bloomberg
The Energy sector was the only to close the month in the green with Consumer Discretionary and Tech the laggards…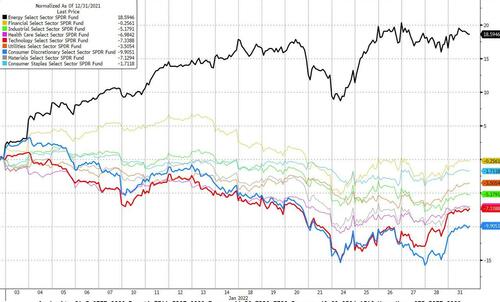 Source: Bloomberg
Value stocks dramatically outperformed Growth stocks as rates rose and long-duration stocks got hammered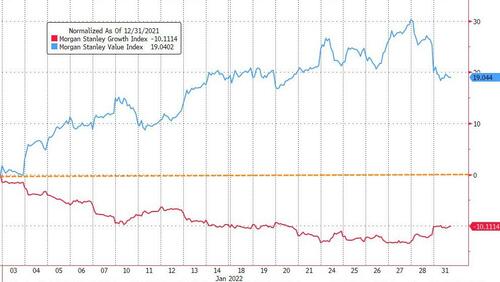 Source: Bloomberg
This was Growth stocks 2nd worst month since Sept 2008 and Value stocks biggest monthly gain since March 2001.
Fed's Bostic walked back his weekend attention-getter by claiming that he doesn't really see 3 rate hikes in March and odds slipped back to unchanged from Friday…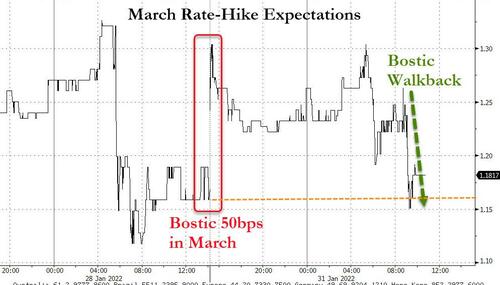 Source: Bloomberg
January overall has seen a dramatically hawkish surge in rate-hike expectations, and, so far, Fed Speakers have done little to push back against that…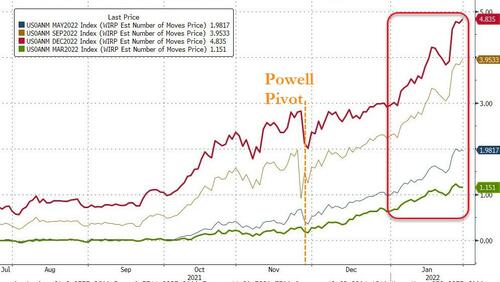 Source: Bloomberg
And this has happened as US macro data has serially disappointed in January (with both 'hard' real data and 'soft' survey data tumbling on the month)…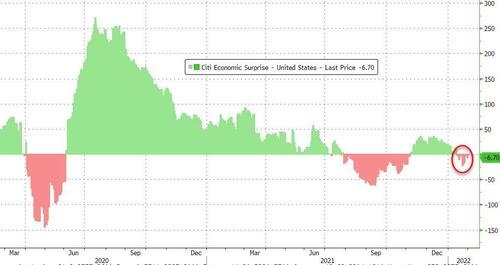 Source: Bloomberg
This was the worst month for US Treasuries since Nov 2016 (post-Trump-election growth/inflation expectations) with the short-end exploding over 40bps higher in yield and the long-end up around 20bps…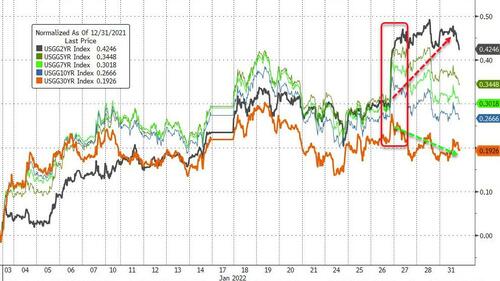 Source: Bloomberg
2Y Yields are at their highest since Feb 2020, 5Y and 10Y at their highest since Jan 2020, and 30Y at its highest since June 2021…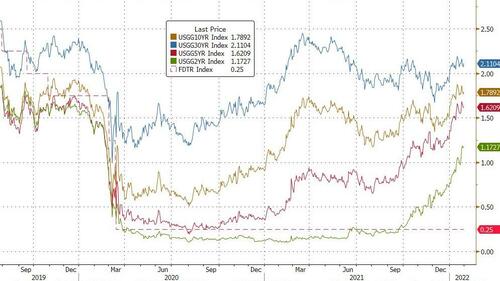 Source: Bloomberg
The yield curve is flatter for the 4th straight month to its flattest since March 2020…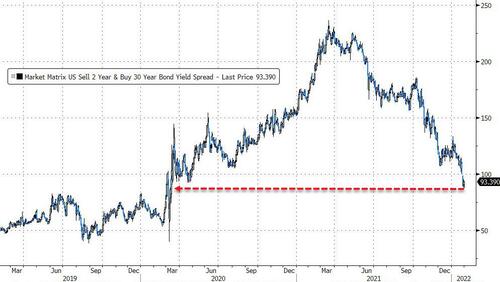 Source: Bloomberg
And the forward curve is implying a recession within a year… (2s30s 1Y Fwd inverted)…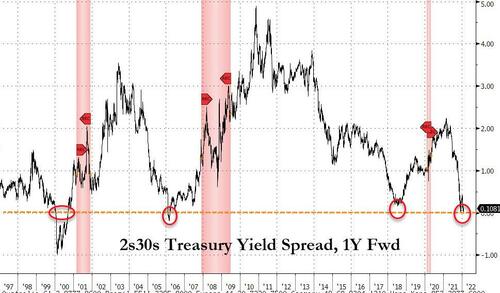 Source: Bloomberg
The dollar rallied to 18 month highs in January (but faded back fast today after tagging December high stops)…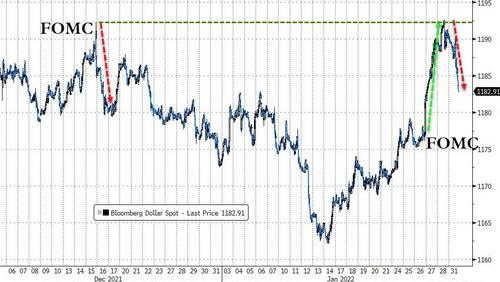 Source: Bloomberg
A very ugly month for cryptos with Ethereum down 27% and Bitcoin down 17%…
Source: Bloomberg
Commodities were broadly lower in January, except for crude which surged on geopolitical concerns…
Source: Bloomberg
Oil prices soared in January with WTI's best month since Nov 2020, closing at its highest since Sept 2014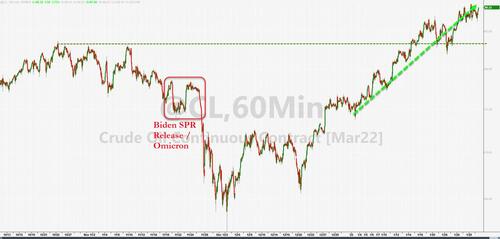 NatGas soared in January, above October highs, but it was a wild ride…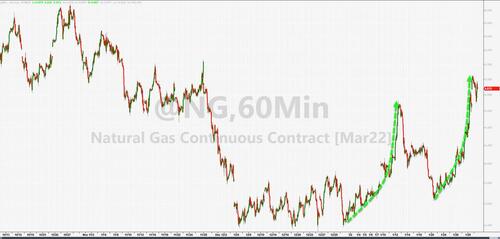 Gold closed down on the month (worst month since Sept 2021), hovering around $1800…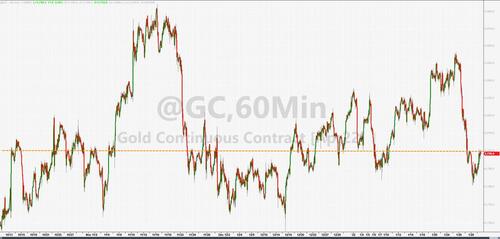 Finally, we note that January saw a very notable regime shift in options markets with call volumes dropping significantly (leveraged dip-buyers absent) and out volumes soaring (leveraged sellers or hedgers?)…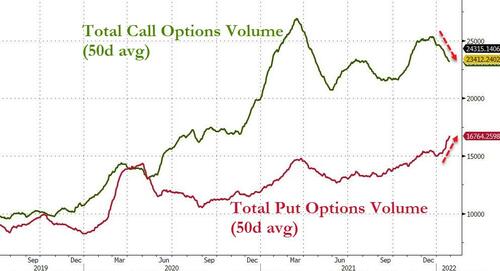 Source: Bloomberg
Did retail raiders get routed in January and leave the battlefield?
Given where real yields and HY bonds are trading, bonds have a lot further to go yet…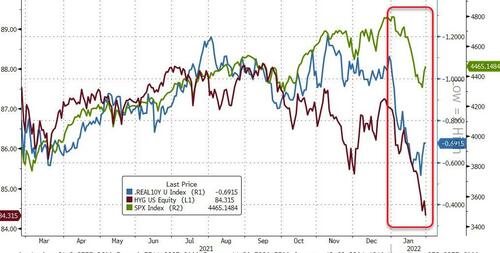 Source: Bloomberg
Get back to work Mr.Powell.