Tesla Q4 Earnings Preview: Broad Risk-Aversion May Eclipse Company's Strength | Investing.com
Reports Q4 2021 results on Wednesday, Jan. 26, after the market close

Revenue Expectation: $16.88 billion

EPS Expectation: $2.25
This quarter, electric vehicle maker Tesla's (NASDAQ:) earnings performance could end up taking a back seat as its hefty market cap comes into focus. As the macro market setting turns to risk-aversion, unsustainable valuations are becoming increasingly dangerous.
Since the pandemic hit, the world's largest EV manufacturer has been a remarkable growth story. Until early November of the past year, shares of the Austin, Texas-based manufacturer surged more than 1,000% over the preceding two-year period.
But the threat of higher interest rates, coupled with CEO Elon Musk's sale of his shares in the company, hit Tesla hard, wiping out about 25% of the stock's gains since the Nov. 4 record high of $1,229.91.
Tesla earlier this month that its annual vehicle deliveries surged 87% in 2021, even when the auto industry is facing severe shortages of semiconductors and other parts due to supply-chain disruptions.
The electric carmaker also produced roughly 930,000 vehicles in 2021. More than half of those likely were made in Shanghai, Credit Suisse estimated recently.
While reiterating Tesla as "overweight" this month, Morgan Stanley said that it doesn't see anyone who can challenge its volume. Tesla is expanding on three continents and is nearing the completion of new factories in Austin, Texas, and Berlin.
High-Performance Bar
Despite this favorable outlook, Tesla's ability to overcome supply-chain bottlenecks that stymied other manufacturers has its limits, too, in our view. And that's perhaps the main reason most analysts don't expect a spike in TSLA shares in the short run.
Zachary Kirkhorn, the company's chief financial officer, told investors in October:
"[We are] trying as far as we can to maximize that capacity to meet the growing demand for vehicles that run on clean energy. The net, net of all this is that we're not able to increase production capacity fast enough."
According to InvestingPro analysis, Tesla stock is trading at a 12-month price-to-earnings multiple of 279, a level that has set the performance bar so high that there is no space for the carmaker to make any errors when it comes to financial performance.
Due to this extremely rich valuation, Tesla's stock could be a risky bet based on InvestingPro's model, which assigns Tesla a $735.60 share fair value—an almost 21% downside risk from the current level.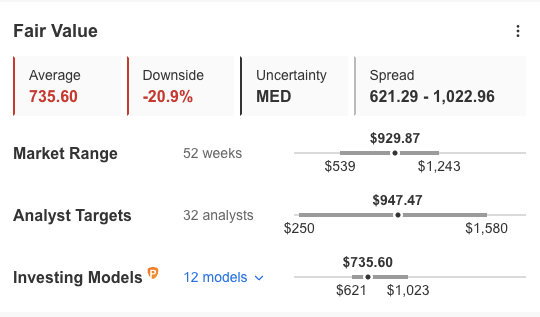 Tesla Fair Value Estimate
Source: InvestingPro
Analysts' consensus estimate for Tesla stock provides a similar picture. In an Investing.com poll of 37 analysts, 16 rate the stock as a buy, 11 consider it a sell, and the rest are neutral.
Chart: Investing.com
Bottom Line
Tesla is likely to produce yet another after the company smashed its car delivery target in the final quarter of the past year. But continuing supply-chain constraints and concerns about the stock's sky-high valuation may keep investors on the sidelines—especially when growth stocks in general are going through a major correction.