Natural Gas Downside Extends Late Into Year Despite Biggest Rally Since 2016 | Investing.com
It's quite remarkable that the biggest rally in five years is also masking the worst quarterly loss in 13 years.
Gas futures on New York's Henry Hub are poised to finish 2021 up more than 50%, the most for a year since 2016. For the fourth quarter though, they are down nearly 35%—the biggest drop since the third quarter of 2008.
But natty, as it's called in the trade, is known for its extreme volatility, so this may come as no surprise.
From 13-year highs of almost $6.69 per million British thermal units in mid-October, natty collapsed to under $3.20 mmBtu earlier this month. With two days to go before the end of 2021, it has steadied at under $4. 
Yet, in an about-face, front-month gas on New York's Henry Hub flipped to $4.26 on Wednesday on low volume and the prospect of colder-than-normal temperatures ahead of the January contract's expiry. 
But that spike couldn't hold either as traders rolled into the February contract—a month that ought to reflect deep winter pricing but instead extended gas bulls' duress at under $4 pricing.
In Thursday's trade, as the Energy Information Administration prepared to report what was likely to be the current cold season's first triple-digit weekly , bets were growing for a return to $4 levels.
Industry analysts tracked by Investing.com were of the consensus that the drawdown for the week ended Dec. 24 was somewhere near 125 billion cubic feet, versus the previous week's drop of 55 bcf.
Yet, with the weather expected to turn mild again over the next two weeks in key gas-fired heating regions in the United States, there were also bets that the market could stay trapped at current levels for a little while longer.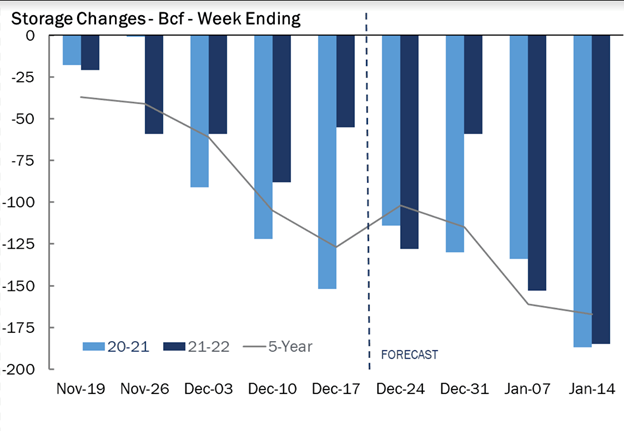 NG Storage Changes
Source: Gelber & Associates
"The market may be slightly more hesitant to completely buy into January's relatively cold outlook until it materializes," said Dan Myers of Houston-based gas markets consultancy Gelber & Associates.
Myers noted that the gas storage report for the current week ending Dec. 31, could show a relatively modest drawdown of 59 bcf—barely half of the five-year average, "with potential to move even lower in final storage model runs." 
He added:
"Those hanging onto hope for significant demand in January will be looking to the weeks ending Jan. 14 and beyond, when the market has moved safely past the holiday drag and deepening, colder-than-normal temperature forecasts may have the potential to push east from their current position in Western Canada and the North-Central US."
Industry news portal naturalgasintel.com observed that after trending warmer in recent runs, weather models had moved in a colder direction since Wednesday. 
In a forecast carried by the portal, NatGasWeather said the Global Forecast System, or GFS, reflected little change in the first seven days of the new year, with a few more days of exceptionally mild temperatures and modest demand. However, the American model shifted even colder for the Jan. 6-11 period.
Weather forecasts continued to show frosty air in the Northern Plains sliding south across North Texas on Sunday and Monday before tracking eastward across the rest of the northern United States, the forecast said. NatGasWeather added that overnight lows in this stretch could fall below zero Fahrenheit in some areas.
This would be a sharp departure from the record high temperatures set in Texas this week, the forecaster noted. For example, temperatures Wednesday morning had already reached a balmy 75, which is a staggering 30 degrees above normal for late December. By Sunday, morning lows are forecast in the 30s.
The latest midday GFS showed a milder break starting next Tuesday through Jan. 7, according to NatGasWeather. However, it was quicker with the next cold shot arriving Jan. 7 instead of Jan. 8 to gain several heating degree days. Furthermore, there is enough cold air lingering across the northern United States Jan. 9-12 in the latest GFS to keep the back end of the 15-day forecast cold enough to satisfy.
"To our view, it's important the Jan. 8-12 period hold strong demand across the northern U.S., or it could lead to disappointment," NatGasWeather said. "Bulls were able to rally February 2022 prices over $4" on Wednesday morning, "before strong selling dropped prices back under it."
Disclaimer: Barani Krishnan uses a range of views outside his own to bring diversity to his analysis of any market. For neutrality, he sometimes presents contrarian views and market variables. He does not hold a position in the commodities and securities he writes about.