3 Ways To Trade Micron Technology Ahead Of Chip Heavyweight's Earnings Report  | Investing.com
Shares of Micron Technology, one of the most prominent chip names, is up close to 14% in 2021.
Management will issue Q1 FY22 financials on Dec. 20.
Long-term investors could consider buying the dips in MU shares, especially if they decline toward $83 or below.
Investors in the memory-chip maker Micron Technology (NASDAQ:) have seen double-digit returns in 2021. Year-to-date, MU stock has returned almost 14%. However, by comparison, the is up 41.8%.
On Apr. 12, MU shares hit a record high just shy of $97. But since that peak, they are down over 11.5%, trading at $85.66. The stock's 52-week range has been $65.67 – $96.96, and the market capitalization (cap) stands at almost $96 billion.
In terms of global semiconductor revenue, Micron's market share in 2020 was 4.7%. Meanwhile, according to recent metrics from the World Semiconductor Trade Statistics (WSTS), "The Worldwide Semiconductor Market is expected to increase 25.6 percent in 2021, continuing to grow by 8.8 percent in 2022."
Micron's fiscal year ends on Sept. 2. The chip heavyweight issued Q4 figures on Sep. 28. was $8.27 billion, compared to $6.06 billion a year ago. Non-GAAP diluted earnings per share (EPS) came in at $2.42 vs. $1.08 in Q4 2020.
On the results, CEO Sanjay Mehrotra said:
"In fiscal 2021, we established DRAM and NAND technology leadership, drove record revenues across multiple markets, and initiated a quarterly dividend. The demand outlook for 2022 is strong, and Micron is delivering innovative solutions to our customers, fueling our long-term growth."
For its Q1 FY22 report on Monday, Dec. 20, after the close, management expects revenue to be in the $7.65 billion ± $200 million range. Diluted EPS is estimated to be in the $2.10 ± $0.10 band.
Prior to the release of the Q4 results, MU shares were trading around $75. On Oct. 12, the stock hit an intraday low of $65.67—the lowest level for shares in a year.
However, the stock has recovered since then, closing at $85.66 on Dec. 15.
What To Expect From Micron Stock
Among 36 analysts polled via Investing.com, Micron Technology stock has an "outperform" rating.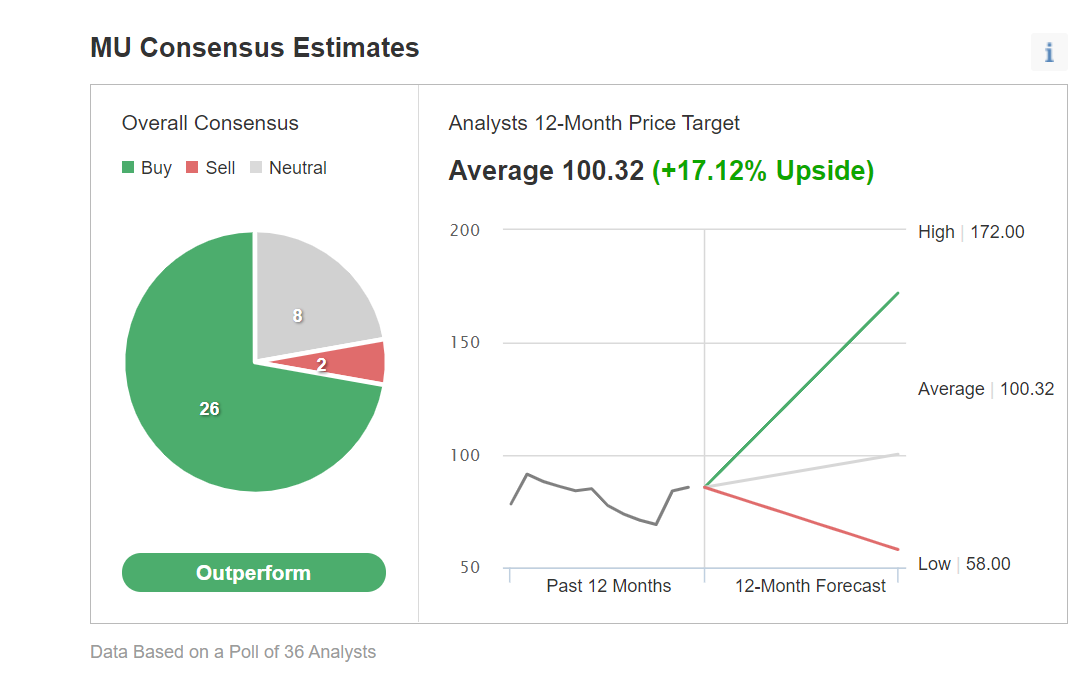 Chart: Investing.com
Analysts also have a 12-month median price target of $100.32 on the stock, implying an increase of over 17% from current levels. The 12-month price range currently stands between $58.00 and $172.00.
Similarly, according to a number of valuation models, such as those that might consider P/E multiples or the 10-year Discounted Cash Flow (DCF) growth exit method, the average fair value for MU stock stands at $115.02, implying an upside potential of over 34%.
Moreover, we can look at the company's financial health determined by ranking it on more than 100 factors against peers in the Information Technology sector. In terms of growth, cash flow and profit health, Micron Technology scores 3 out of 5 (top score). Its overall performance is ranked at 4 ("great").
Trailing P/E, P/B and P/S ratios for MU stock are 16.4x, 2.2x and 3.5x, respectively. By comparison, those metrics for peers stand at 33.1x, 7.3x and 8.3x.
Finally, readers who watch technical charts might be interested to know that several of MU stock's intermediate-term indicators are cautioning investors and giving overbought signals. However, the long-term bullish sentiment is intact.
Given the recent run-up in price, our first expectation is for short-term profit taking in Micron Technology stock that could push it below $85. Then, MU could trade in a range, possibly between $80 and $85, and establish a new base. Afterwards, a new leg up is likely to start.
3 Possible Trades On Micron Technology Stock
1. Buy MU Stock At Current Levels
Investors who are not concerned with daily moves in price and who believe in the long-term potential of the company could consider investing in Micron Technology stock now.
On Dec. 15, MU stock closed at $85.66. Buy-and-hold investors should expect to keep this long position for several months, if not multiple quarters, while the stock makes an attempt at analysts' price target of $100.32. Such a move would lead to a return of over 17% from the current level.
2. Buy An ETF With MU As A Holding
Readers who do not want to commit full capital to Micron Technology stock but would still like to have exposure to the shares could consider researching a fund that holds the company as a holding.
Examples of such ETFs include:
Invesco PHLX Semiconductor ETF (NASDAQ:): The fund is up 23.9% since inception in June, and MU stock

'

s weighting is 4.07%;
First Trust Nasdaq Semiconductor ETF (NASDAQ:): This fund is up 33.3% YTD, and MU stock

'

s weighting is 4.03%;
iShares MSCI USA Value Factor ETF (NYSE:): The fund is up 21.8% YTD, and MU stock

'

s weighting is 3.70%;
Innovator Loup Frontier Tech ETF (NYSE:): The fund is up 6.7% YTD, and MU stock

'

s weighting is 3.06%.
3. Cash-Secured Put Selling
Investors who believe MU stock could continue to reach new highs in the weeks ahead might consider selling a cash-secured put option in Micron Technology stock— we regularly cover. As it involves options, this set-up will not be appropriate for all investors.
Let's assume an investor wants to buy Micron Technology stock, but does not want to pay the full price of $85.66 per share. Instead, the investor would prefer to buy the shares at a discount within the next several months.
One possibility would be to wait for MU stock to fall, which it might or might not do. The other possibility is to sell one contract of a cash-secured Micron Technology put option.
So the trader would typically write an at-the-money (ATM) or an out-of-the-money (OTM) put option and simultaneously set aside enough cash to buy 100 shares of the stock.
Let's assume the trader is putting on this trade until the option expiry date of 18 Feb. 2022. As the stock is $85.66, an OTM put option would have a strike of $82.50.
Thus the seller would have to buy 100 shares of MU at the strike of $82.50 if the option buyer were to exercise the option to assign it to the seller.
The MU 18 Feb. 2022 82.50-strike put option is currently offered at a price (or premium) of $4.60.
An option buyer would have to pay $4.60 X 100, or $460, in premium to the option seller. This premium amount belongs to the option seller no matter what happens in the future. The put option will stop trading on Friday, Feb. 18.
The seller's maximum gain is this premium amount if MU stock closes above the strike price of $82.50. Should that happen, the option expires worthless.
If the put option is in the money (meaning the market price of Micron Technology stock is lower than the strike price of $82.50) any time before or at expiration on Feb. 18, this put option can be assigned. The seller would then be obligated to buy 100 shares of MU stock at the put option's strike price of $82.50 (i.e., at a total of $8,250).
The break-even point for our example is the strike price ($82.50) less the option premium received ($4.60), i.e., $77.90. This is the price at which the seller would start to incur a loss.
Cash-secured put selling is a moderately more conservative strategy than buying shares of a company outright at the current market price. This can be a way to capitalize on any choppiness in Micron Technology stock in the coming weeks, especially around the earnings date.
Investors who end up owning MU shares as a result of selling puts could further consider setting up to increase the potential returns on their shares. Thus, selling cash-secured puts could be regarded as the first step in stock ownership.