2 ETFs To Consider As Cybersecurity Remains Center Stage | Investing.com
Cybersecurity stocks have received increased attention since the early days of the coronavirus pandemic, which forced many of us to work from home. The global lockdowns put the internet and wireless communications at the center of our lives and moved cybersecurity to the top of everyone's agenda.
The World Economic Forum (WEF) highlights:
"As digital spreads its roots deeper, it also increases the risk and impact of cyberattacks…The World Economic Forum's COVID-19 Risks Outlook found 50% of enterprises were concerned about increased cyberattacks due to a shift in work patterns alone. These concerns are merited."
We have exchange-traded funds (ETFs) that focus on cybersecurity shares in recent months. As October is the Cybersecurity Awareness Month, today we revisit this important topic.
Recent metrics suggest:
"The global cyber security market size was valued at US$167.13 billion in 2020 and is expected to register a CAGR of 10.9% from 2021 to 2028. The growth of the market can be attributed to the growing sophistication of cyberattacks."
Our reliance on internet technology and mobile applications is growing daily. At the same time, there is significant growth in cyber attacks with significant consequences. Therefore, we can expect Wall Street to continue to pay attention to cybersecurity companies.
Many of the leading names operate subscription-based software-as-a-service (SaaS) platforms. As a result, they have high-margin operations with recurring revenues, a business model that the Street loves. With that information, here are two ETFs to consider.
1. Global X Cybersecurity ETF
Current Price: $30.70
52-Week Range: $20.45 – $33.33
Expense Ratio: 0.50% per year
The Global X Cybersecurity ETF (NASDAQ:) invests in global firms that offer cybersecurity solutions against cybercrime. The fund was first listed in October 2019.
BUG, which has 31 holdings, tracks the returns of the Indxx Cybersecurity Index. The top 10 names make up about 60% of net assets of $858 million.
In terms of sectors, we see information technology (83.2%), followed by communication services (14.9%) and industrials (1.9%). About three-quarters of the businesses come from the US. Next in line are those from Israel (11.7%) and the UK (8.2%), among others.
Leading holdings include the cloud security platform Zscaler (NASDAQ:), Fortinet (NASDAQ:), which offers both cybersecurity products and services, Palo Alto Networks (NYSE:), which is known for its firewalls as well as cloud-based offerings, provider of cloud-delivered solutions Crowdstrike (NASDAQ:), Israel-based Cyberark Software (NASDAQ:), and Rapid7 (NASDAQ:), which offers cybersecurity audit and technical assessment services.
Many of the names in the fund have announced robust earnings in recent quarters, reminding buy-and-hold investors that the industry deserves their close attention. BUG is up 8.3% in 2021 and 32.3% over the past 52 weeks.
In the past month, however, like many tech shares and ETFs, BUG has lost about 5%. Interested readers might consider investing at around $30 or even below.
2. WisdomTree Cybersecurity Fund
Current Price: $26.25
52-Week Range: $20.09 – $28.89
Expense Ratio: 0.45% per year
The WisdomTree Cybersecurity Fund (NASDAQ:) also provides access to IT firms that offer cybersecurity products and services. This is a new small fund that started trading in January 2021. Its net assets stand around $36 million.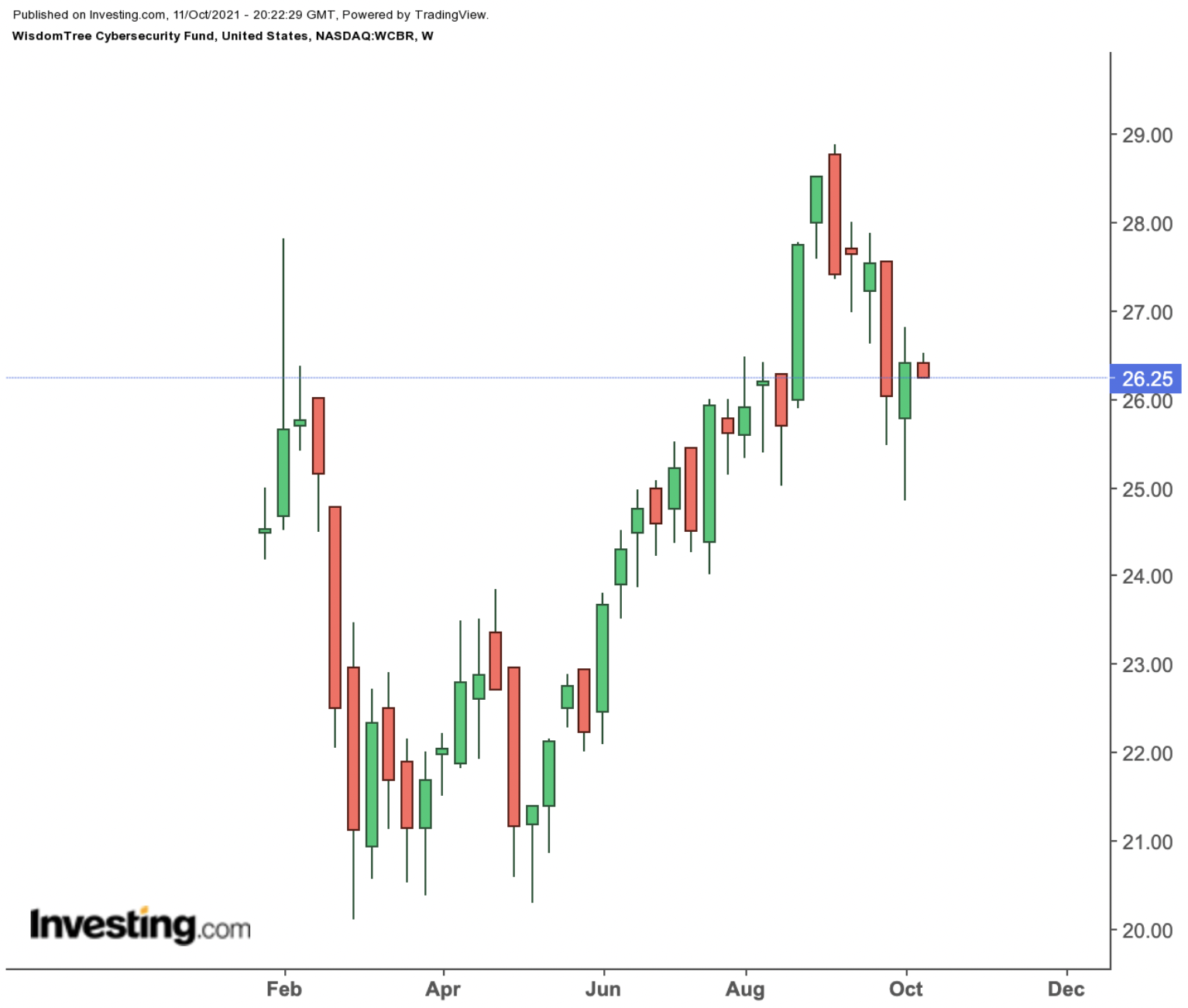 WCBR has 28 holding, and the leading 10 stocks comprise almost half of the fund. Among the top names are UK-based Darktrace (LON:), content delivery network Cloudflare (NYSE:), Palo Alto Networks, Datadog (NASDAQ:), which offers a SaaS-based data analytics platform, Rapid7, and Identity-as-a-Service (IDaaS) platform Okta (NASDAQ:).
Many of these stocks have been darlings of Wall Street, especially during the pandemic. Yet, such high-flying names also tend to be volatile, especially around earnings dates. And with October marking the start of the quarterly report season, we're likely to see more volatility in many of these shares.
Since inception in late January, WCBR has returned about 10%. However, like BUG, it is also down 5.3% in the past month. Buy-and-hold investors could regard a decline toward $25 as a better entry point.