GameStop: With New Management, Is This Reddit Darling A Stock Worth Betting On? | Investing.com
GameStop (NYSE:), the video game retailer elevated from obscurity (literally and figuratively) by the Reddit crowd and still favored by some retail investors and traders, has lost its momentum after an eye-popping rally this year.
Over the past 52-week period, shares have gone from a low of $6.43 to a high of $483, an insane escalation of more than 7,400%. During January, 2021, the stock rocketed up 1,600% before slumping, but since then, shares have been stuck in a range, with bulls holding their positions in hopes of a turnaround.
Though the stock of this brick-and-mortar electronics vendor is still up more than 900% for the year, it appears there are no other short-term catalysts that could support additional gains. The stock closed on Friday at $190.41, after falling 4%.
The latest evidence as to why activity is so subdued on the stock came last week when the Texas-based company reported its second-quarter earnings. The struggling video-game retailer posted a wider-than-expected second-quarter and took no questions afterward during its call with analysts.
GameStop's quarterly performance further strengthened the argument that the retailer still doesn't have a credible turnaround plan which investors could use to justify their faith in the stock. The company has reported red ink in six of the past eight quarters, including a loss of $0.76 a share in the latest period, wider than the $0.67 which was an average estimate by analysts.
The company has shuttered hundreds of stores amid falling sales and is now trying to compete even more directly with online retail giant Amazon (NASDAQ:). Ryan Cohen, an activist investor who became GameStop chairman after building a 13% stake, told investors in June that he won't disappoint them, but markets are still waiting.
The same month, GameStop named former Amazon veteran Matt Furlong as its chief executive officer. Furlong led GameStop's earnings call on Wednesday, his first time speaking publicly since becoming CEO. However, as mentioned he didn't take questions and said the company wouldn't provide guidance, as has been the case in recent past quarters.
No Justifying Fundamentals
Analysts on Wall Street have been warning investors not to buy GME stock. The rationale: its current value isn't justified based on fundamentals. The video-game retailer is currently covered by four analysts, down from nine at the beginning of the year.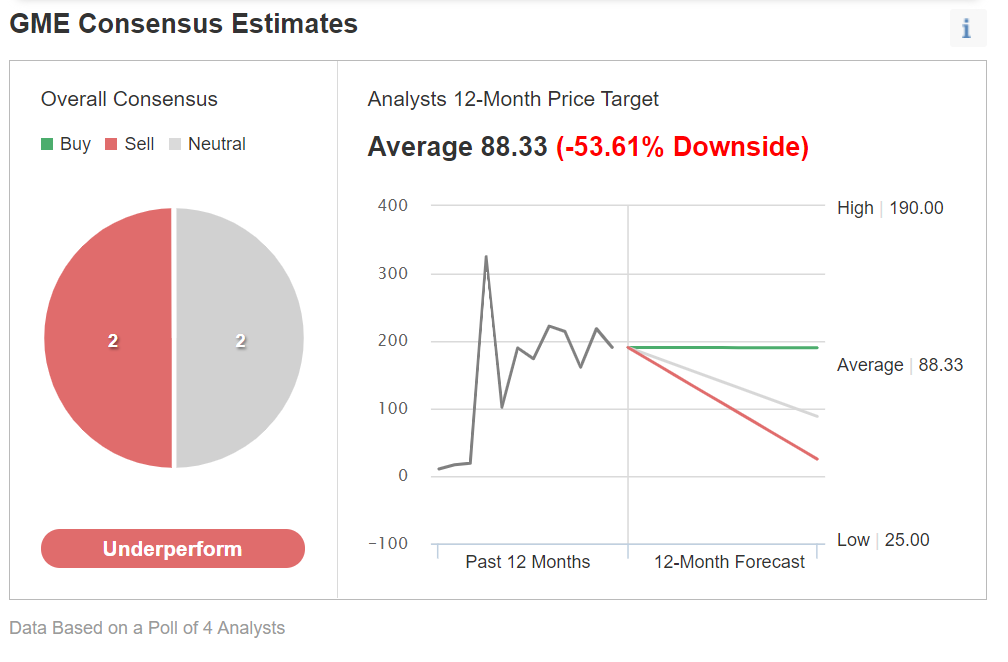 Chart: Investing.com
As of Friday, there are two hold and two sell ratings on GameStop, according to an Investing.com poll, with a 54% downside risk and an average price target on the stock of $88.33.
While reiterating its own hold rating on GME, Jefferies said it's still waiting for more information about the strategic direction of the company. Their note said:
"We are closely monitoring 2 specific areas — infrastructure investments and clues as to the future scale of a digital business; and personnel changes, as a signal for changes in strategic direction guided by a new board and CEO."
Retail traders on Reddit have been supporting the shares since last year, even though many Wall Street analysts believe the company is highly overvalued.
"This stock is 90% psychology/momentum and 10% fundamentals, so in many ways it doesn't matter what the quarterly results are," Vital Knowledge's Adam Crisafulli said in a note, cited by Bloomberg news.
Bottom Line
GameStop continues to remain a highly volatile stock with few details available about its turnaround plan. Though its meteoric rise this year significantly improved its financial health, there is no guarantee its business will be able to take on, let alone compete, with tech behemoths, including Amazon.