Purdue Pharma's Bankruptcy Has Cost The Company Nearly $400 Million In Professional Fees
Today in the "efficiency of the legal system" news…
Professionals working on the bankruptcy of Purdue Pharma have amassed almost $400 million of fees and expenses, making up about half of the entire amount that all individuals harmed by the firm's drug, OxyContin, would share under a proposed settlement. 
The ongoing saga has turned "into a cash machine" for lawyers and consultants who have been hired by the company and its creditors, Bloomberg noted this week. The list of those on the dole include white-shoe law firms, premier restructuring advisers and investment bankers – all of whom are charging thousands of dollars per hour for their work.
The company claims it is paying "market rates" for the professionals in its employ: "This is one of the most complex bankruptcies in history, and it merits seasoned and experienced counsel and financial advisers on all sides of the case," it said. Should the settlement be approved by the courts, the company's remaining assets will be handed to trusts for benefit of the states and municipalities who had to pay to handle the opioid crisis.
Bob Lawless, a law professor at the University of Illinois, told Bloomberg: "These are huge — this is a large chunk of money that would otherwise be going to pay victims of a horrible tort. You have to pay the undertaker. Whether they have to be paid that much is another question."
Meanwhile, the bankruptcy docket is littered with letters to the judge begging for compensation, or even just information, from the company. The letters include a former baseball player who lost his son to overdose and a former Army doctor who said he had a stroke after getting hooked on opioids in 2018.
Payments to those who filed personal injury claims will range from $3,500 to $48,000 with the most compensation awarded for OxyContin deaths.
Davis Polk & Wardwell, who serves as the company's lead bankruptcy council, has been paid more than $100 million already. They put in nearly 7,000 hours on the case in the month of October 2019 alone – amounting to more than $5 million in fees. The firm also billed Purdue for expenses that included $5,000 for meals and $3,500 per month at the Ritz-Carlton, the nearest hotel to the bankruptcy court. The firm also rented conference rooms at the hotel to meet with stakeholders.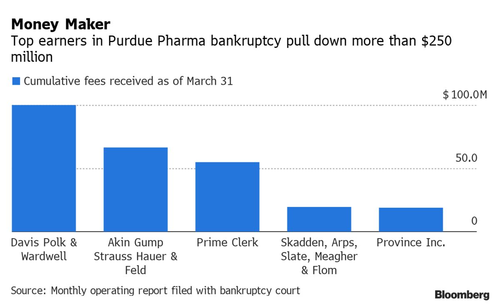 The firm's lead partner, Marshall Huebner, is charging $1,790 per hour for his services. Adam Levitin, a bankruptcy law professor at Georgetown University said: "Traditionally, bankruptcy has had a spirit of economy. I think that spirit has long since passed. The bottom line is bankruptcy attorneys don't see themselves performing a service in the public interest."
More than 600,000 claims were filed against Purdue – which Bloomberg notes is almost 10 times as many lodged against Lehman Brothers when it blew up. 
Lawless continued: "In these negotiations, you want someone who has a lot of experience, someone who is well-regarded and at the top of the profession. Those people are expensive."
The company concluded that it is "moving as quickly as possible to deliver a settlement worth more than $10 billion".