50 Million People In Pathway Of Severe Storms From Texas To New York
A multi-day heavy rainfall and powerful storm threat will affect upwards of 50 million people across Southern Plains Wednesday and into the interior Northeast Thursday, according to CNN. 
"Even though today may not look like a classic set up for a severe weather outbreak, there will be severe storms that break out from Texas all the way up to the Northeast," said CNN meteorologist Chad Myers. "We often talk about the ingredients for big storms and today's recipe includes an overabundance of warm air and humidity."
Current Radar (as of 1300 ET)
Storm Prediction Center (SPC) warned hailstones up to 4 inches in diameter for some areas in the Plains. Texas, Oklahoma, Arkansas, and Missouri will see severe weather on Wednesday. 
"The stronger thunderstorms may produce large hail and wind damage. A tornado threat may also develop in the Southern Plains," warned SPC.
The Southern Plains through the lower Midwest will experience torrential rains this afternoon and into tonight. 
Forecast Precipitation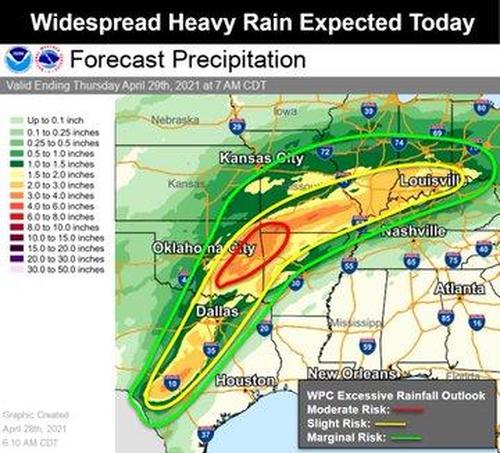 "Locally heavy rainfall will be a bigger concern in our area by later today and tonight, with both flash flooding and main-steam river flooding possible depending on just where the heavier rain swathes set up," said the National Weather Service office in Tulsa, Oklahoma.
There will be an elevated risk for severe storms in parts of the interior Northeast by Thursday, especially the eastern Great Lakes region.
Ohio, Pennsylvania, and New York, including Cleveland and Pittsburgh, could experience storms during the mid-to-late-afternoon hours, increasing into the evening. 
12:55am CDT #SPC Day2 Outlook Marginal Risk: from east tx through the mid-south and across much of the oh valley https://t.co/rEAejNpVr0 pic.twitter.com/weJS1NRtfi

— NWS Storm Prediction Center (@NWSSPC) April 28, 2021
Over 200 million people in the US are forecasted to have high temperatures of at least 80 degrees on Wednesday. All that warm and moist air have been fueling severe storms. 
Thursday's Forecast High Temps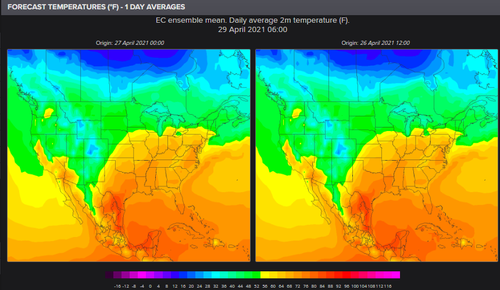 So far, we don't see any price anomalies in Texas power prices nor any others across the South. 
… and of course, climate change warriors will point to the temperature spike and severe weather as proof global warming exists.