Here's What Analysts Are Expecting From Tesla Earnings
Tesla earnings are slated to be released after the bell today, with investors likely paying close attention not only to the "usual" metrics – like what kind of "profit" the company can turn in the absence of EV credits – but also to the ongoing tension in China, where both media and the government appear to be less than amused with Elon Musk. 
While Tesla is all of a sudden grappling with a regulatory investigation in the U.S. as a result of a recent fatal wreck in Houston, and calls for a regulatory intervention in China, the company began April with decent delivery number momentum, as we reported back in early April. Tesla reported 184,800 vehicles delivered for Q1 2021, coming in head of the average analyst estimate of 168,000 vehicles.
Analyst estimates for deliveries ranged from 145,000 to 188,000 for the quarter, CNBC noted. The most pronounced change in the data heading into 2021 was the lack of deliveries of Model S and Model X models, which as you can see in the chart below, only accounted for 2,020 of the company's Q1 deliveries. Tesla has since announced it would be delaying its Model S and Model X production refreshes, as we commented earlier this month.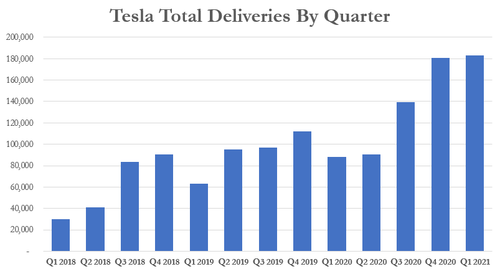 The remaining 182,780 vehicles that Tesla delivered were either Model 3 or Model Ys. The company said its production was negatively affected by a fire at its Fremont plant, temporary closures due to parts shortages and the broader semiconductor shortage that the entire industry is dealing with. 
Last year, Tesla delivered 88,400 vehicles in the same quarter.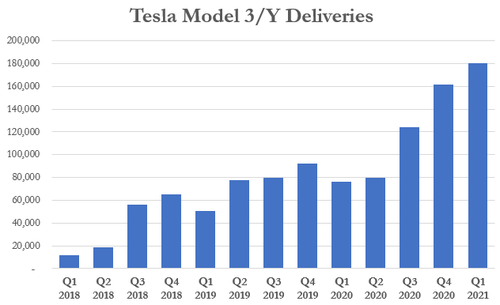 And Tesla CFO Zach Kirkhorn did address the low contribution percentage of the company's Model S and X for the quarter in Tesla's most recent earnings call. He also said that Q1 numbers would have the benefit of Tesla's Shanghai plant spooling up: "Specifically for Q1, our volumes will have the benefit of early Model Y ramp in Shanghai. However, S and X production will be low due to the transition to the newly re-architected products."
We'll see if that is still the case, given the CCP's apparent new tone with the company.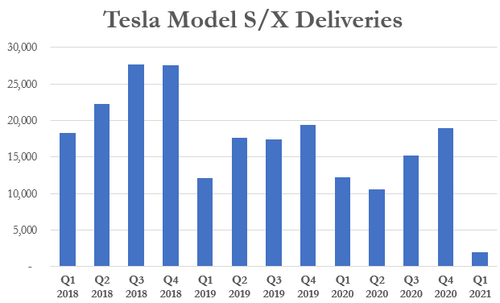 All eyes also remain on the scorching hot traction that legacy automakers have begun to get with their EV plans – including Ford's recent Q1 where it sold over 6,000 Mustang Mach E crossovers. Analysts are looking to see if these EV sales will eventually cut into Tesla's marketshare.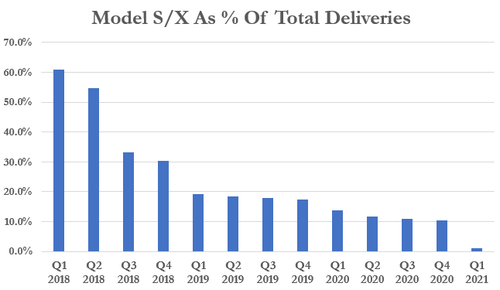 And so, heading into earnings tonight, here is what analysts are expecting, courtesy of a Monday morning wrap-up by Bloomberg:
Morgan Stanley (overweight):
Expects the EV maker to frame its expansion along product lines and assembly plants as the narrative for remainder of the year
Raises FY21 delivery forecast by 3% to 809k units in a note dated April 22; Also lifts PT to $900 from $880
Says Tesla's immediate priority is to expand capacity and industrialize its EV "hegemony" before the market gets crowded
Believes the company needs to address any number of issues around sustainably sourced battery manufacturing and supply chain to establish its position as the apex player during the phaseout of fossil fuels
Wedbush (outperform):
Expects Tesla to report earnings with upside across the board, driving the stock "much higher over the coming months"
Believes the company could exceed 850k deliveries for 2021 despite the chip shortage and various supply chain constraints
Says pent-up demand in China and Europe was robust this quarter; sees inflection in demand to come in the U.S. once the EV tax credit ceiling gets lifted
Besides Tesla's annual delivery trajectory, will also focus on Musk's comments on the timing of Berlin factory, chip shortage, Model Y trajectory, Cybertruck build-out timetable, and autopilot/FSD safety
Cowen (market perform):
Recent commitments and advancements from automakers such as Volkswagen and GM suggest that Tesla has achieved peak market share within the EV category
However, Tesla's investment in battery technology and electrical efficiency can make then tough to chase in the short term
Strong deliveries in 1Q and quick ramp-up at the China facility shows the company is able to refine its process, making deliveries less lumpy and back-end loaded
Bloomberg Intelligence:
Tesla delivered 185,000 vehicles globally in 1Q, exceeding the 180,000 mark in consecutive quarters, while price reductions in various markets suggest demand remains tenuous
Installed capacity stands at 1.05 million units, implying 1Q utilization below 80%, with additional plants under construction in Austin, Texas, and Berlin
Tesla's lead in global EV sales slipped 100 bps to 24% in 2020 vs. 2019, whereas the share of the VW Group rose to 9% from 4% in 2019, on track to overtake Tesla in 2023
Tesla earned $1.6 billion in regulatory credits from its peers in fiscal 2020 — allowing for a positive bottom line — a task now more complicated as legacy manufacturers become self-reliant
Jeffrey Osborne, an analyst at Cowen said in early April: "We acknowledge Tesla has shaken up the auto industry, but recent commitments and advancements from incumbent automakers such as Volkswagen and General Motors suggest to us that Tesla has achieved peak market share within the EV category,"
On Thursday, Morgan Stanley's Adam Jonas commented: "Tesla sees itself as the apex player during the most formative phase of the industrialization of sustainable propulsion and transition off of fossil fuels."
Bloomberg Intelligence analyst Kevin Tynan commented: "Even in its first profitable year of 2020, adjusted pretax income was less than the earnings from selling credits to automakers that can't build pickups and SUVs fast enough. The irony is that despite all the EV hype, legacy automakers are making so much money from selling internal combustion pickup trucks and SUVs that it has made Tesla look profitable."
The options market is pricing in a move of 7.2% for tonight's report, according to Bloomberg.