"Ethereum About To Make An Epic Breakout Over Bitcoin"
From Larry McDonald, author of the Bear Traps report
This week's 20 year note auction was well received with dealers taking less than the last time. That suggests there was good end investor demand, for now. Since the reopening of 20-year issuance, it has been up and down. It is always a relief to get through an auction. But macro hedge clients we RESPECT point to the "undeniable" bid to cover (PROBLEM) trend across the breadth of 2021-2022 US Treasury bond auctions. Above all, the path ahead is in a clear and present DOWN trend (poor bid to cover trend path).
ACG in Washington reminds us, this is on Janet Yellen's mind every morning at breakfast. This week in Miami, conversations at the Four Season Brickell with institutional investors, we are consistently reminded of the US Treasuries Refunding schedule juices HIGHER in the month of May again. As the bid to cover decay marches forward in 2021, bond sales overpower global bond buyers – the Fed MUST step in as the buyer of last resort. Biden – Yellen – Reconciliation will literally force the Fed into action later this year. We have a social justice Fed and US Treasury (far more U-6 unemployment focus, near 11%) now with an enhanced power of reconciliation in their back pocket, a game-changer for metals.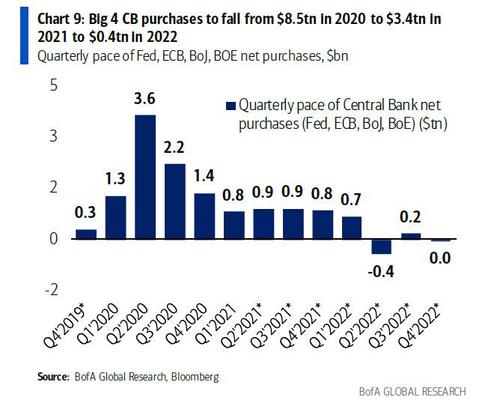 We think a growing forward trend is a combination of pressure on crypto-currencies, particularly Bitcoin (more and more clients point out – Ethereum has software applications that work and becoming more popular so isn't just a one-trick pony like Bitcoin) with some of that flowing into precious metals, particularly silver.
Why? If in fact there has been a crypto-currency substitution for precious metals to some non-quantifiable and therefore non-verifiable extent, then that certainly allows for reverse substitution on a crypto drawdown on a similar scale. There have been three 70% crashes in crypto in recent years. As Aristotle said in his Metaphysics, "If it happened before, it can happen again." So surely if something has happened three times, it can happen a fourth time.
If crypto represents a flight from fiat currency, then a move out of crypto should lead into the ultimate non-fiat currency: gold (and gold's playmate, silver). Remember – Gold and silver are not substitutes for fiat currencies. Fiat currencies are substitutes for gold and silver. As readers know, we like precious metals and we like copper (see our bull case here. Palladium made a new high the other day. Between deficit spending, upcoming yield curve control, opening up of the economy, and the US infrastructure spend, inflation havens should work, to gold and silver's benefit. Furthermore, because of electric vehicle and solar panel production growth, silver has additional demand drivers that should push it to new recovery highs. So, now we see an additional reason to play long precious metals: a potential kick in the pants for Bitcoin.
Ethereum > Bitcoin:
"Larry, pay attention – ETH/BTC about to make an epic breakout. I think Ethereum is the world's most interesting trade right now. That NFT company we told u about, Yat; going to do 20-25mm in very high margin revenue this quarter (1st revenue quarter). The alpha male trade now is ETH over BTC."
From the live Bloomberg chat, Billionaire VC client in the valley keeps making this point, 8 weeks now.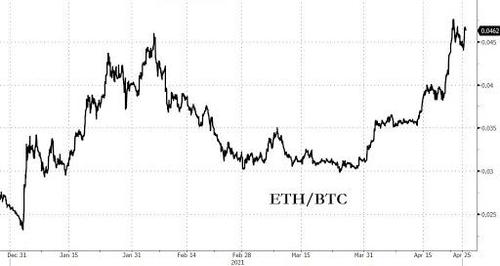 And once the recent high is taken out, there is much more room to go…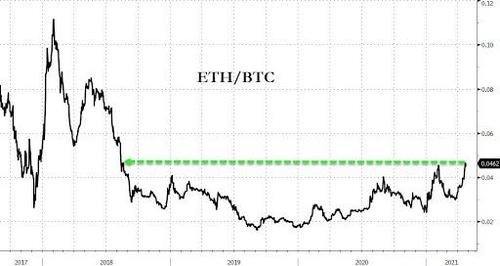 In fact, should ETHBTC hit its historical high, Ethereum would be above $5,000.