China Buys US Treasuries For 4th Straight Month Amid Record LTM Inflows Into US Equities
Amid the worst quarter for Treasuries since 1980, there was at least one big buyer.
For the 4th straight month, China bought US Treasuries in February (the latest period for which we now have data). That is the biggest holding since July 2019 and the longest buying streak since 2017.
Source: Bloomberg
But overall, foreigners were net sellers of Treasuries in Feb, dumping $65.5bn.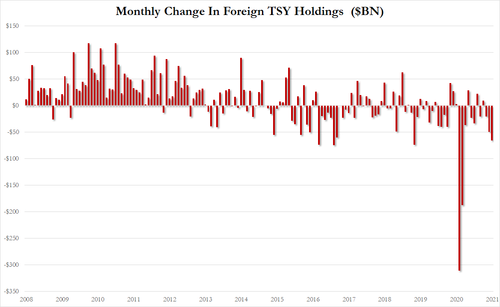 Driven almost entirely by Private Investors (-$61BN), not central banks (-$4.5BN)…
Additionally:
Agencies +$29.6BN inflows

Corporate Bonds: $14.5BN inflows

Corporate Stocks: $14.0BN inflows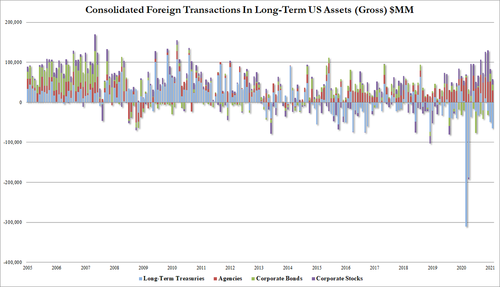 Japan's holdings fell $18.5 billion to $1.26 trillion, the sixth decline in seven months, with total foreign holdings of U.S. government debt declining to $7.1 trillion.
The last 12 months have seen $376 billion in inflows into US equities… by far the great 12-month rolling inflow ever…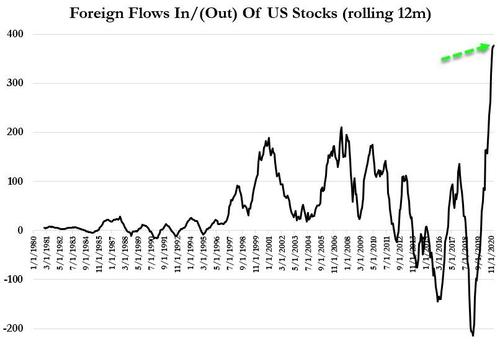 But the pace of foreign buying of US stocks eased back for the second month in a row in Feb when the Reddit insanity hit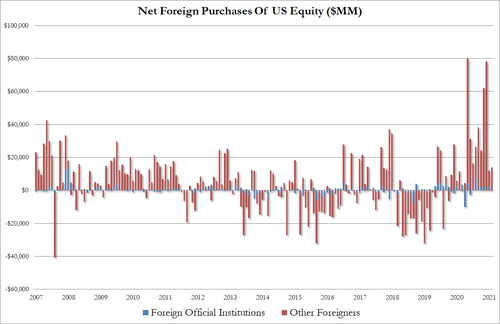 Interestingly in the last few months, the de-dollarization trend has reversed…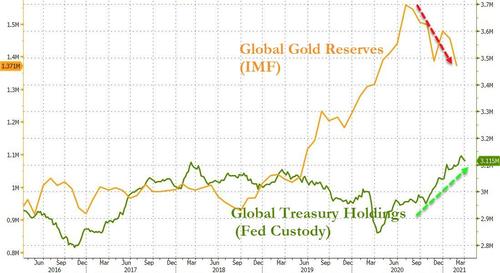 Are central banks loading up on bitcoin?