Hong Kong Activist Joshua Wong Handed 4-Month Jail Sentence For Anti-China Protest
The man who is arguably the most visible and prominent Hong Kong pro-independence activist, and long featured in Western media reports – Joshua Wong – has been sentenced to four months in jail on Tuesday for "unauthorized assembly" as well as violating an anti-mask law which was designed to expose protesters to identification by authorities. He and other activists have been accused of "conspiracy to commit subversion". 
The 24-year old who has over the years semi-regularly traveled to the US, UK and Europe at the invitation of Western government officials, even having testified before US Congress, has long been a target of pro-Beijing authorities who have alleged a 'foreign hand' behind his pro-democracy activism. He is now among at least 47 people charged under Hong Kong's notorious draconian 'national security law' which was enacted on June 30, 2020.
He was already facing jail time for a prior charge of "organizing an illegal assembly" but avoided the max possible sentence of three years. Wong reportedly pled guilty to both the new charges. 
As Reuters details it came after a year of frequent unrest and protests which sometimes brought central sections of the city to a halt:
In October 2019, Hong Kong leader Carrie Lam invoked colonial-era emergency powers for the first time in more than 50 years to enact a regulation banning face masks, which many pro-democracy protesters used to hide their identities from authorities.

Under the law, it was illegal to wear a mask at both lawful and unlawful assemblies. Offenders faced a maximum one year in jail and a HK$25,000 fine.
As feared and perhaps expected, the national security law has effectively chilled all major protests as Beijing also more recently implemented a far-reaching election process overhaul which basically ensured greater mainland control of Hong Kong's government.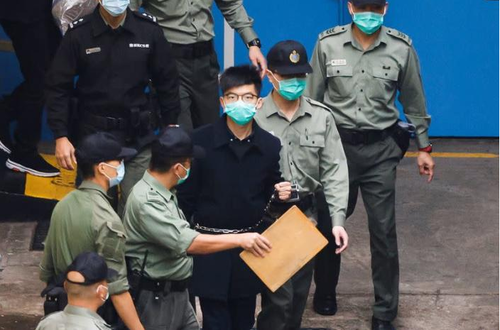 A number of activists since the summer have literally fled to other countries in the wake of the national security law, which includes 66 articles that criminalize any act of the following: 
secession – breaking away from the country
subversion – undermining the power or authority of the central government
terrorism – using violence or intimidation against people
collusion with foreign or external forces
Wong could face even more extreme charges and stiffer penalties as his protest actions in recent years are no doubt under Beijing's microscope. For example, "collusion" with foreign entities could bring many more years or decades behind bars if authorities bring this charge.