"This Is A Fatal Event": China's Bond Market Hammered After Huarong Bankruptcy Rumors
The last time we looked at Huarong, China's largest state-controlled bad-debt asset manager and one of the most recognizable financial firms in the country, its former chairman Lai Xiaomin was sentenced to death after he was convicted for stealing 1.8BN yuan (roughly $277M) from the company.
And while we don't know if Lai is still with us, his former employer probably wishes the money he embezzled was still around, because over the past few days Huarong has emerged as the latest a 'weakest link' in China's financial system, one which is sending shockwaves across all of China's capital markets.
As Bloomberg reports, growing panic over the financial health of one of China's largest bad-debt managers spilled into the broader market, as traders circulated a Caixin report that openly considered the worst-case scenario for the company. Specifically, in a commentary dated Monday, Ling Huawei, managing editor of Caixin Media and Caixin Weekly, discussed the possibility of a China Huarong bankruptcy.
Not helping was the latest pileup by rating agencies, with both Moody's and Fitch saying Tuesday they will review their ratings of Huarong – an investment grade credit for now – for a potential downgrade, following a similar announcement from rival S&P Global Ratings last week.
This led to a record plunge in China Huarong Asset Management's $300 million 3.375% bond due May 2022, which tumbled 13.1 cents on the dollar to 76.1 cents, while a 5% bond maturing in 2025 fell 12.1 cents to 77.3 cents. Other bonds suffered similarly, with the company's yield spreads hitting record highs.
"Huarong is a $22 billion curve and as a distressed situation it dwarfs anything that we have seen in the Asia credit market before," said Owen Gallimore, head of trading strategy at Australia & New Zealand Banking Group. "This is a fatal event for a few trading desks and small funds."
Some of the drop was reversed later, and Huarong bonds edged up from session lows after Bloomberg reported China's finance ministry is mulling transferring its stake in China Huarong to a unit of the nation's sovereign wealth fund that invests in financial companies, but the negative sentiment prevailed.
"Market speculation of a restructuring with haircuts for Huarong International bondholders is heavily damaging investor sentiment," said Chang Wei Liang, a macro strategist at DBS Bank Ltd. in Singapore. "The continued silence of Chinese authorities on the predicament of a strategic state-owned institution as large as Huarong is also worrisome, as investors had anticipated at least a modicum of reassurance."
Sure enough, in typical Chinese style contagion, the Huargon selloff spread to other high-yield Chinese dollar notes on Tuesday, with some property bonds falling by a record. Asia's investment-grade dollar debt spreads widened as much as 3 basis points, while a gauge of Asia credit risk widened for a seventh straight day, set for the longest rising streak since 2018.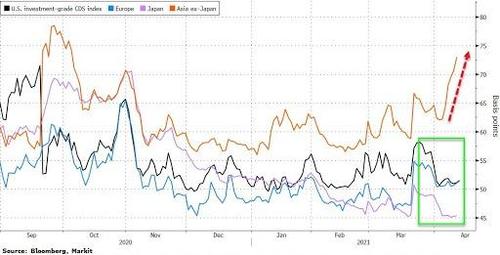 Chinese investment-grade dollar bond spreads widened by as much as 8 basis points, while prices on the nation's high-yield notes fell as much as 3 cents on the dollar, according to credit traders. The CSI 300 Index of stocks fell 0.2%, dipping below its 200 DMA for the first time in almost a year.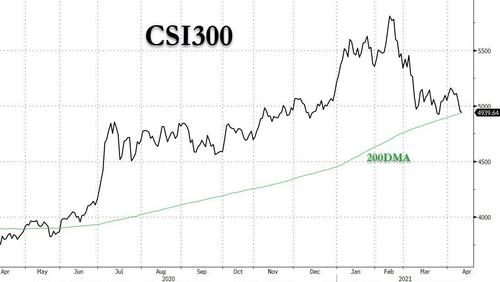 Despite the market rout, it is still unclear whether Chinese leaders have discussed the fate of China Huarong's bondholders or outlined specific measures that the fund would take if it assumes control of the China Huarong stake.
China Huarong has been under a cloud since its then-chairman Lai Xiaomin came under investigation in 2018 . Under his watch, the company expanded into areas including securities trading, trusts and other investments, deviating from the original mandate of disposing bad debt, and building up billions in liabilities. As Larry McDonalds puts it in his latest Bear Traps report, "instead of offloading the bad debt of China's commercial banks — Huarong's official mandate — Lai went rogue, playing in everything from private equity to junk bond trading in Hong Kong." He would live to regret it. Or rather die: as noted above, Lai was put to death earlier this year for bribery after a brief trial, an unusually harsh sentence for such a crime according to Bloomberg.
The selloff in Huaron bonds started earlier this month after the company failed to publish its 2020 preliminary results by the March 31 deadline, with Caixin attributing the delay to plans for a significant financial restructuring. The stock has been suspended in Hong Kong since April 1. The company has until the end of the month to release its final earnings report. China Huarong's biggest shareholder is the country's Ministry of Finance, which likely means that the worst case outcome is a nationalization of the company however with potential substantial spillovers and contagion.
To be sure, there is one clear reason why Beijing will not let anything too "terminal" happen to Huarong: the company has symbolic value, as it was one of the four state-owned entities set up by China's government in 1999 to help clean up a banking system riddled with bad debt, as such it would be ironic if the company were to fail because of… bad debt. The company was listed in Hong Kong after a $2.5 billion initial public offering in 2015.
There is another reason why China won't let Huarong fail: the giant asset manager and its subsidiaries have some $42 billion worth of offshore and local bonds outstanding and 41% of that will come due by the end of next year, according to Bloomberg-compiled data. Dollar bonds make up about $22 billion of its outstanding notes. A default would result in a historic domino effect spreading across the Chinese financial system.
Ironically, it is precisely because of its massive debt load that the company was previously seen as a safe bet, the securities are widely held by both local and international investors. Institutional investors such as BlackRock and Goldman Sachs previously disclosed they held Huarong bonds, had exposure to them via fund products or both. So while the Archegos was contained, a similar collapse in Huaron will have far wider reaching consequences.
In recent years, China Huarong had started trimming non-core assets amid regulatory pressure to return to its roots. Net income slumped 92% in the first half of 2020 from a year earlier as the value of some assets dropped in the wake of the Covid-19 pandemic. The company's stock market value has tumbled to about $5 billion from $15 billion when it listed.
We end on a tangent: as the Bear Traps report notes, we can now add Huaron to the growing list of "wounded ducks in the pond" since September 1:
SoftBank Whale
Robinhood
Melvin GME
Greensill
Archegos
SPACs
ARKK
TAN
Cannabis
Haurong***
Common theme in all of the above names: massive leverage.