Italy Mandates COVID-19 Shots For All Its Healthcare Workers
Authored by Tom Ozimek via The Epoch Times,
Italy's government has announced that all health workers in the country must get a COVID-19 jab or face possible sanctions.
A decree on Wednesday—approved by Prime Minister Mario Draghi's cabinet—says that health workers, including pharmacists, "are required to undergo vaccination," with those who refuse facing potential suspension without pay, according to Reuters.
"The aim of the measure is to protect as much as possible both medical and paramedical staff and those who are in environments that may be more exposed to the risk of infection," the Italian government said in a statement.
The move comes after the discovery of COVID-19 clusters in hospitals after staff refused to get shots, in a country noted for relatively high levels of vaccine hesitancy. A survey last fall found that nearly 40 percent of Italian respondents said they didn't want to risk a COVID-19 jab.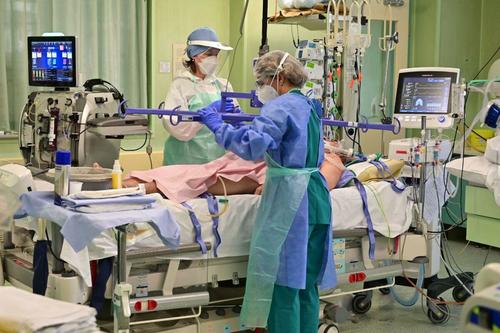 Members of the medical staff wearing personal protective equipment (PPE) tend to a patient in the COVID-19 unit of the Bolognini hospital in Seriate, Bergamo, Italy, on March 12, 2021. (Miguel Medina/AFP via Getty Images)
In the United States, by comparison, a December 2020 survey by the Kaiser Family Foundation vaccine attitude tracking project showed that 27 percent of the general public were vaccine-hesitant, telling pollsters they would either definitely or probably not get a shot. A separate January Gallup poll showed that vaccine hesitancy is higher among U.S. healthcare workers and first responders than workers in all industries, which can serve as a proxy for the general population.
The Gallup survey showed that 34 percent of healthcare workers and first responders said they would not agree to get a shot, 49 percent said they would, while 18 percent were unsure. The percentage of workers in all industries expressing vaccine hesitancy stood at 27 percent, the same as the percentage of the general population polled by the Kaiser Foundation a month earlier.
Italy, where some 10 million vaccine doses have been administered since late December, has seen a resurgence in infections and deaths over the last month, prompting authorities to tighten restrictions.
The United States, which leads the world in COVID-19 vaccinations, recently surpassed 100 million administered doses, with the Centers for Disease Control and Prevention (CDC) announcing on April 1 a record 3.38 million shots in a single day.
But despite progress in vaccinations, new infections in the United States are on the rise, with the seven-day moving average of daily infections now over 79,000, up from around 53,000 earlier in March, according to Johns Hopkins data.
At a White House health briefing earlier this week, both President Joe Biden and the head of the CDC, Dr. Rochelle Walensky, voiced dire warnings that too many Americans were easing COVID-19 protocols.
Walensky said she had a feeling of "impending doom" at the rising cases of COVID-19, while Biden said if that continued, the United States could see a "fourth surge."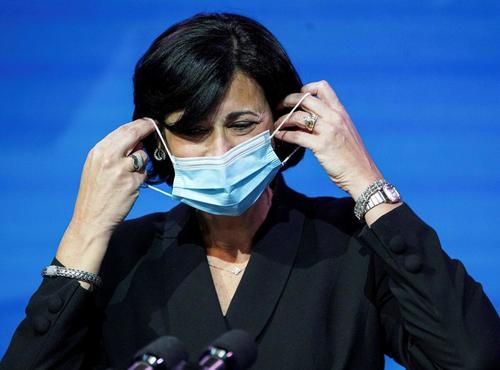 Dr. Rochelle Walensky, now the director of the Centers for Disease Control and Prevention (CDC), removes her mask to speak as Presidential Candidate Joe Biden announces nominees and appointees to serve on his health and CCP virus response teams during a news conference at his transition headquarters in Wilmington, Del., on Dec. 8, 2020. (Kevin Lamarque/Reuters)
To fight against COVID-19 "fatigue," persuade people not to ease up on mitigation measures, and overcome vaccine hesitancy, the Biden administration has teamed up with influencers—including community, religious, and celebrity partners—to keep spreading the word.
Besides urging Americans to get a COVID-19 jab, the coalition of "trusted influencers"—which includes athletes, doctors, business people, and faith-based community leaders—will continue to promote the message that people shouldn't let up with measures such as social distancing and mask-wearing.