Grassley, Johnson Seek Intel Records On Hunter Biden's Chinese Business Associates
Authored by Isabel van Brugen via The Epoch Times,
Two Republican senators are asking the Department of Justice (DOJ) and intelligence community for any and all intelligence records tied to foreign nationals with links to the Chinese Communist Party (CCP) who had business dealings with Hunter Biden, son of President Joe Biden.
In their letter (pdf) to the Director of National Intelligence (DNI) and DOJ Attorney General, Sens. Chuck Grassley (R-Iowa), ranking member of the Senate Judiciary Committee, and Ron Johnson (R-Wis.), ranking member of the HSGAC Permanent Subcommittee on Investigations, noted that they have been reviewing financial transactions and connections between and among members of the Biden family and foreign nationals connected to the CCP, including its military and intelligence services.
On Sept. 23, 2020, the senators released a report (pdf) that revealed millions of dollars in "questionable financial transactions" between Hunter Biden and his associates and foreign individuals, including the wife of the former mayor of Moscow and individuals with ties to the CCP.
Of particular concern, the GOP senators wrote in their letter, Hunter Biden had a "close and personal relationship" with Ye Jianming, a Chinese oil tycoon whose company, CEFC China Energy Co. (CEFC), sought oil drilling rights in Chad and Uganda. Ye reportedly had links to the communist regime's People's Liberation Army.
The president's son also had a close association with Ye's business associates, Gongwen Dong and Chi Ping "Patrick" Ho, the senators wrote.
"It's imperative that Congress better understand the relationship Ye Jianming, Gongwen Dong, and Patrick Ho had between and among themselves, with the communist Chinese government, CEFC China Energy, and their activities in the United States, including those relating to the Biden family. Accordingly, please produce all intelligence records, including but not limited to, all FISA-derived information relating to these three individuals no later than April 14, 2021."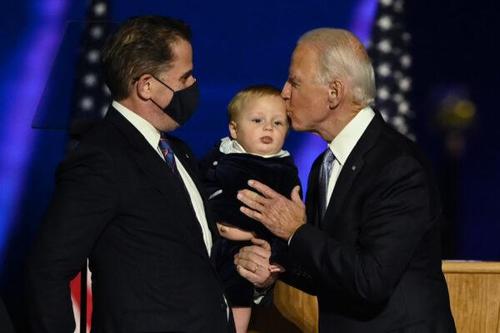 Former Vice President Joe Biden kisses his grandson held by son Hunter Biden after delivering remarks in Wilmington, Delaware, on Nov. 7, 2020. (Jim Watson/AFP via Getty Images)
Hunter Biden attracted scrutiny during last year's election season after a former business partner disclosed to media outlets a trove of text messages, some of which demonstrated his close ties to Ye. Other messages suggested the president was aware of his son's business activity, although then-candidate Biden denied knowledge of his son's dealings.
The revelations prompted concern about foreign influence on U.S. policy.
Federal investigators are currently probing Hunter Biden's "tax affairs," including reportedly his business dealings with China. While he also holds a stake in a Chinese private equity firm, the White House press secretary said earlier this month that the younger Biden "has been working to unwind his investment."
When "Patrick" Ho was charged by the DOJ in 2017, he reportedly phoned Joe Biden's brother, James, who has said that he believed the call was for Hunter Biden.
A three-judge panel of the 2nd U.S. Circuit Court of Appeals in Manhattan, New York, found (pdf) that Ho was properly convicted by a federal jury in December 2018 of paying bribes to the presidents of Chad and Uganda in a United Nations-linked conspiracy.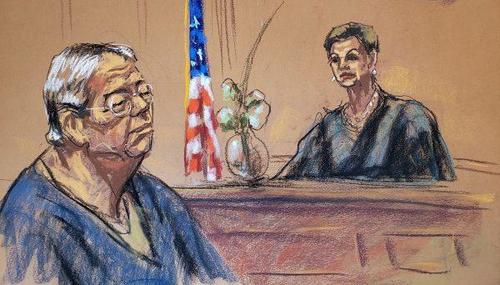 Chi Ping Patrick Ho sentenced in a bribery trial by District Judge Loretta Preska in New York, on March 25, 2019. (Reuters/Jane Rosenberg)
Ye, meanwhile, hasn't been seen since being taken into custody by Chinese authorities in early 2018.
Grassley and Johnson asked the DOJ and the Office of the DNI to send "all unclassified material directly to the Committees."
"If any of the responsive documents do contain classified information, please segregate all unclassified material within the classified documents, provide all unclassified information directly to the Committees, and provide a classified addendum to the Office of Senate Security," the senators added.
The president has said that he won't interfere in any of the DOJ probes.