Tesla Investigating Model 3 Fire In Shanghai After Collision Causes Battery Short Circuit
Tesla is reportedly cooperating with a fire department in Shanghai in trying to find the cause of what is being calling a "Model 3 fire incident" that took place on Wednesday night.
A Model 3 caught fire in an underground garage after a "collision below the vehicle" may have caused a battery short circuit, according to reports from Bloomberg and Shine. Stop us if you've heard this one before.
Both Tesla and the owner acknowledge that a collision under the vehicle may have been the cause of the battery catching fire.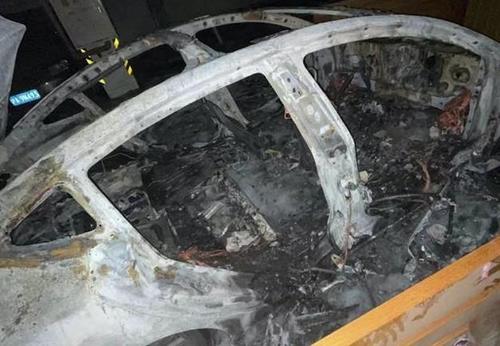 The fire took place in Qibao, Minhang District and photos of the vehicle show a burnt Model 3 surrounded by foam used by firefighters. The car "was parked close to the entrance of the garage," the report notes. 
Recall, mysterious fires popping up in China – in addition to sudden unintended acceleration and consumer complaints – were two of the reasons we cited in our recent piece suggesting that Elon Musk's Chinese fairy tale could eventually come to an end. 
As we noted then, so far Musk has been able to sidestep some ugly press in China, including out of control Tesla vehicles, forced recalls, constant price cuts and disgruntled customers. So far, Musk is holding it together in China.
Incidents like this one won't help. We look forward to hearing the result of Tesla's totally unbiased investigation.