Goldman's Top Charts Of 2020
In the year's final report published by Goldman's economists the bank has summarized key global themes that stood out this year and are likely to shape 2021 in a series of charts.
First, here are some of Goldman's key observations on the global economy:
The global economy came to a sudden pandemic stop with a peak hit to global GDP in mid-April of 20% that varied significantly in magnitude across economies.
Unprecedented policy easing and adaptation drove the rapid but partial global recovery in the second half of 2020.  Fiscal easing led to relatively stable real disposable income in most DMs and an actual surge in the US despite a historic collapse in GDP.  Monetary easing stabilized financial markets and brought the most accommodative financial conditions on record.  Targeted policies such as mask wearing mandates and other consumer and business adaptations including surges in e-commerce and work from home lowered the relative impact on economic activity from successive virus waves.
Relatively low bankruptcies, increased business formations, limited increases in unemployment in Europe and Japan, and sharp declines in unemployment in North America all point to surprisingly limited long-term damage to the supply side of the economy.
We expect the virus situation to improve sharply in 2021, driven by warmer weather in the Northern hemisphere, rising immunity from natural infections and—most importantly—a successful global vaccination campaign.  Vaccine supply is well below demand at present, but it should become plentiful in DMs in the next several months and in EMs later in the year.  The remaining issues are mostly logistical, but the speed of the rollout in Israel in recent weeks suggests that they are surmountable.
Slowing virus spread should boost activity in virus-sensitive sectors that account for the bulk of the output gap and the 2020 decline in inflation and drive our 2021 above-consensus global growth forecast of +6.4%
And here are the charts, starting with the Global Sudden Stop, with China becoming the first country to lock down followed promptly by other countries in March…
… leading to a 20% collapse of global GDP in April…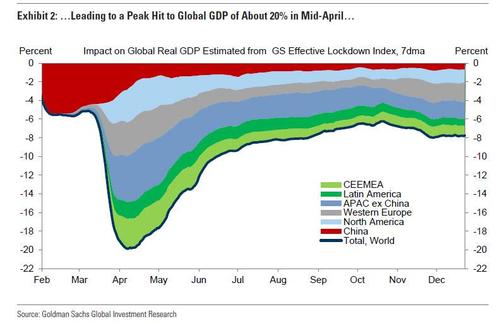 … yet the decline wasn't uniform and varied in both speed and magnitude across economies.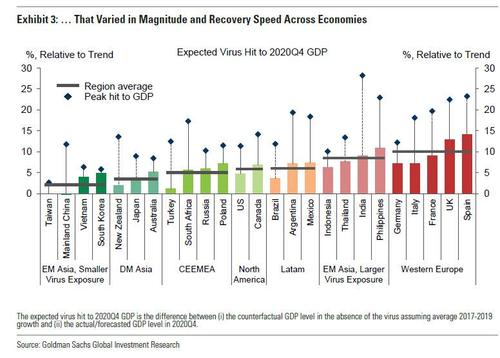 The collapse reversed rapidly if partially in the second half, thanks to a panicked policy response and behavioral adaptation…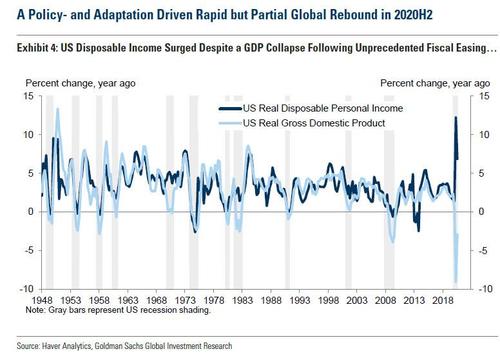 Meanwhile, the historic $20 trillion QE unleashed by global central banks…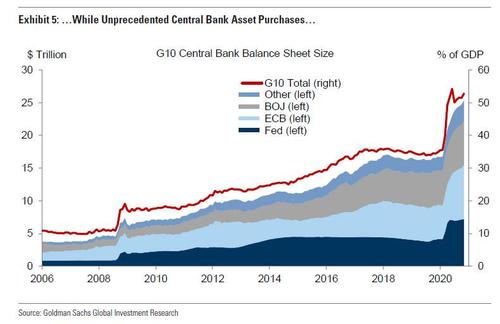 … helped push stocks to all time highs while pushing financial conditions to the easiest on record.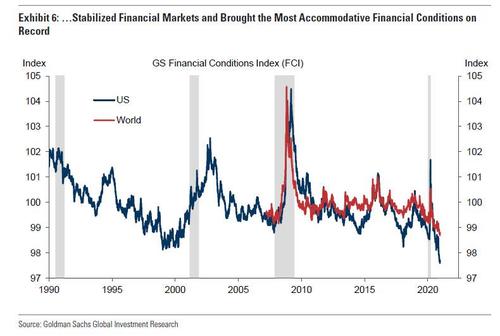 Looking ahead, Goldman sees limited supply side damage and improved virus control which drive the bank's above-consensus 2021 global GDP forecast of +6.4%…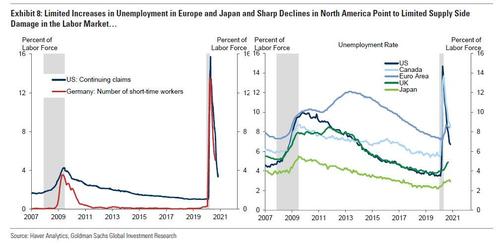 … boosted by a strong business sector which "experienced surprisingly few bankruptcies and elevated business formations"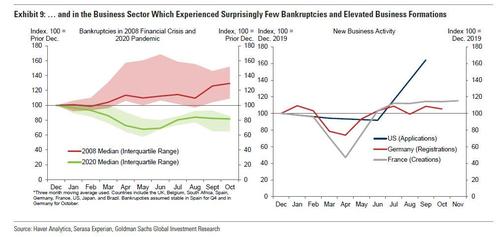 Adding to its optimistic outlook, Goldman sees the virus spread slowing once the weather warms up in the Northern hemisphere…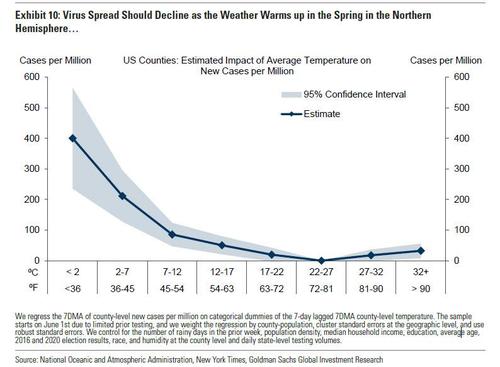 … and as natural immunity from infections builds…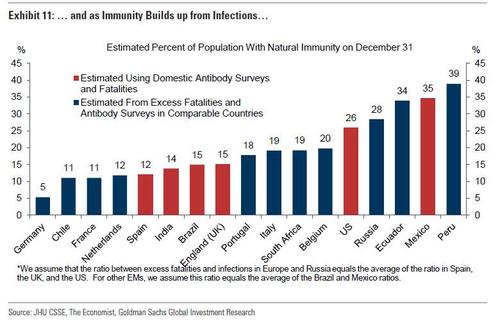 … while distribution of plentiful vaccines will further cut down on virus spread…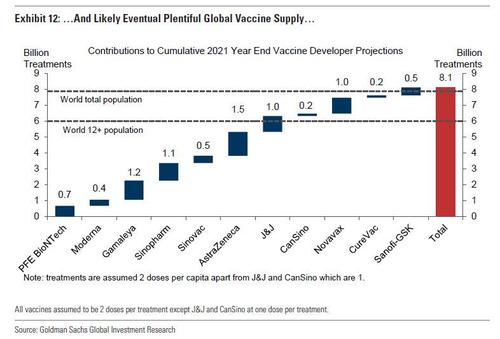 … benefiting DM countries most and helping drive successful vaccination campaigns…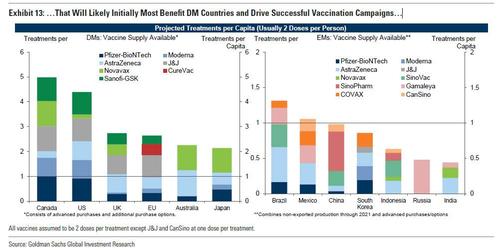 … with the assumption that logistic issues get resolved, something which Goldman is optimistic about referring to Israel's "rapid rollout":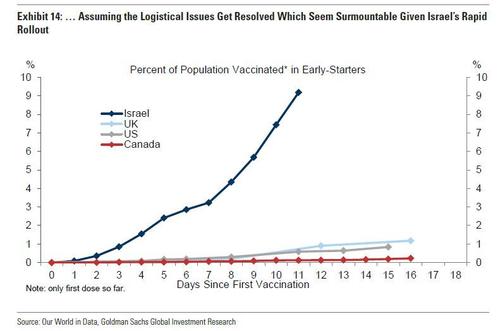 The gradual elimination of covid should boost activity in virus-sensitive and restricted sectors that account for the bulk of the output gap according to Goldman…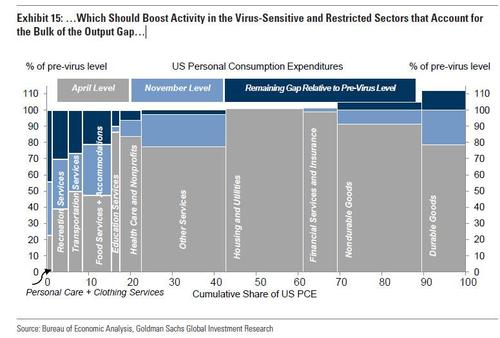 … which concludes by putting all of the above together, and predicting a jump in inflation in the coming years.