WTI Extends Gains After Bigger Than Expected Crude Draw
Oil prices managed modest gains today as hopes of a bigger bailout faded and stocks were under pressure.
Higher stimulus checks could "invigorate oil demand," said Bob Yawger, head of the futures division at Mizuho Securities.

"Without the additional stimulus, it could be yet another drag on oil demand. That's what is undermining oil futures now."
For now all algo eyes will be inventories to determine the short-term trend…
API
The prior week's across the board draws (from crude to products) was expected to continue last week and did with a bigger than expected 4.875mm draw in crude…
Source: Bloomberg
WTI hovered around $48 ahead of the API print and extended gains after…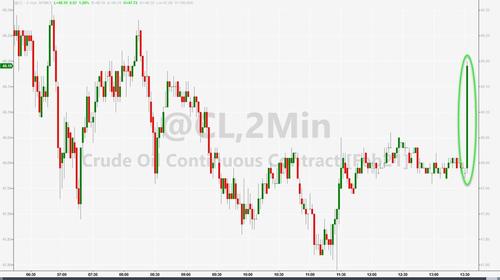 As a reminder, OPEC+ will meet next week to decide on production levels for February. The producer group is set to add another 500,000 barrels a day of output to the market from January. Russia's deputy prime minister has said the nation would support a further gradual increase in production in February.