Ethereum Erupts, Oil & Gold Pump'n'Dump As Tech Jumps
$600 checks for all, vaccines for all, and stocks are hitting record highs as economic data collapses…
Source: Bloomberg
The message is – Biden's here, all is well! (Oh, apart from the "dark winter" he keeps on warning about)…
Crypto deserves the main headlines since Xmas Eve's close with Bitcoin up over 15% and altcoins even more…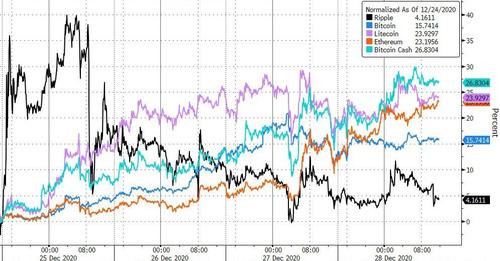 Source: Bloomberg
Bitcoin tagged new highs and fell back to stabilize around $27,000…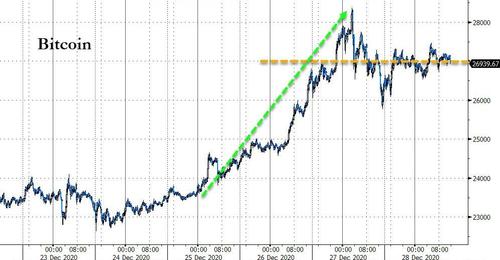 Source: Bloomberg
But today it was Ethereum that really ripped, surging up towards $750…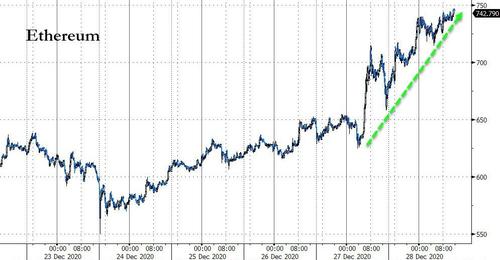 Source: Bloomberg
Which reversed the recent trend in ETH/BTC, which is back above the Maginot Line of 0.025x…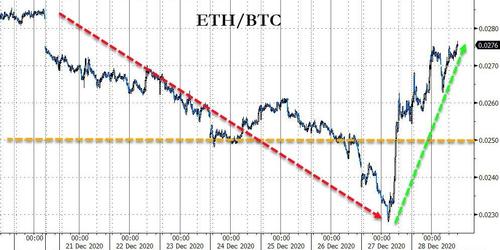 Source: Bloomberg
Bitcoin is on track for its longest monthly winning streak in more than a year after touching a record above $28,000 over the weekend. The largest cryptocurrency reached an all-time high of $28,365 on Sunday before paring some of the advance, according to a composite of prices compiled by Bloomberg. The run of outsize returns over October, November and December so far is the longest such stretch since mid-2019.
"My sense is we're very close to a top — we could hit $30,000 though," said Vijay Ayyar, head of business development with crypto exchange Luno in Singapore.

"We should definitely see a pullback, but the magnitude is probably lesser. We might only see 10% to 15% drops."
But while crypto was ripping, gold and oil were rollercoastering.
Gold futures spiked back above $1900 before giving it all back…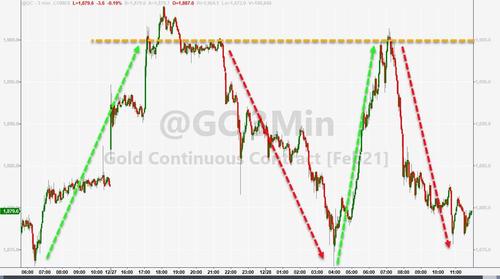 WTI screamed up towards $49 after reports of Trump signing the COVID Lockdown Relief only to retreat back below $48 as the cash equity market opened…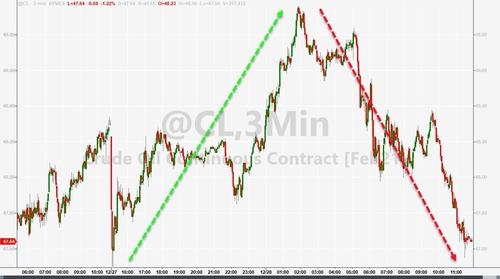 Notably, as ETH/BTC reversed course today, so did Small Caps / Big Tech as Nasdaq dramatically outperformed. Russell 2000 tumbled into the red late in the day (and the rest of the market was also hit) but there was no clear catalyst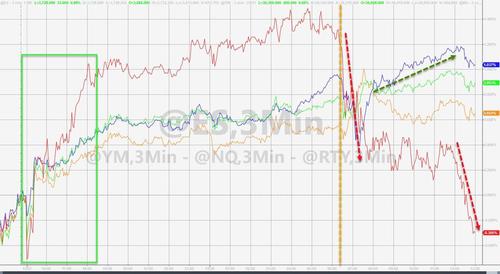 Erasing Russell 2000's outperformance since 12/22…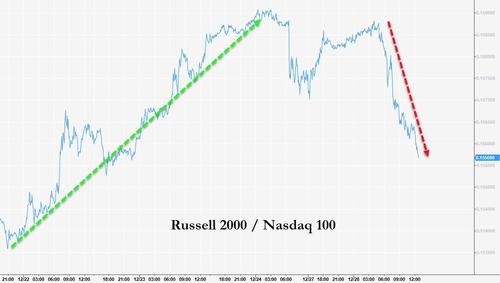 Energy stocks were the worst performers as Tech and Consumer Discretionary outperformed…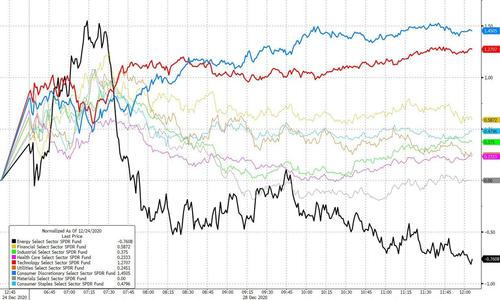 Source: Bloomberg
Treasuries ended the day practically unchanged after pushing notably higher in yield overnight…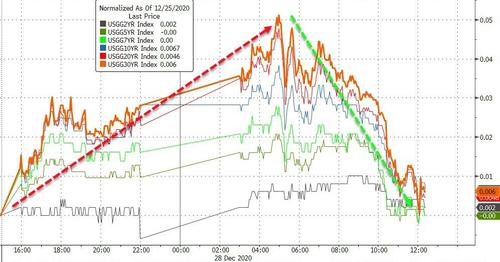 Source: Bloomberg
Once again, the magic hand of Covfefe stepped in a compressed 10Y yields back below 95bps…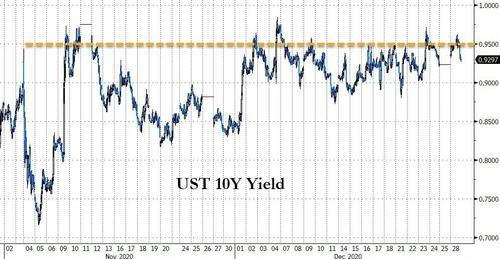 Source: Bloomberg
The dollar managed gains after overnight weakness was erased during the Europe session…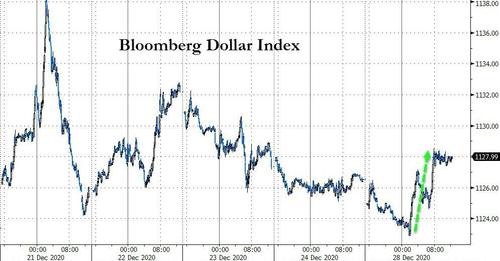 Source: Bloomberg
Finally, it appears the call-buying panic of the last couple of months is taking a break. Will the shortened week breathe life back into the leveraged long crowd?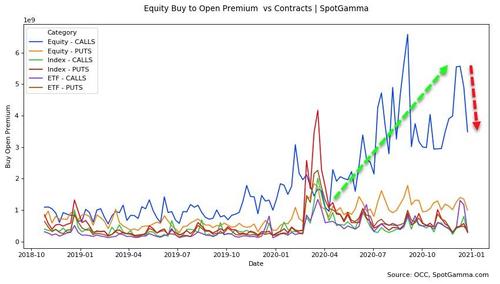 For now, the Put-Call ratio continues to push to new 14 year lows…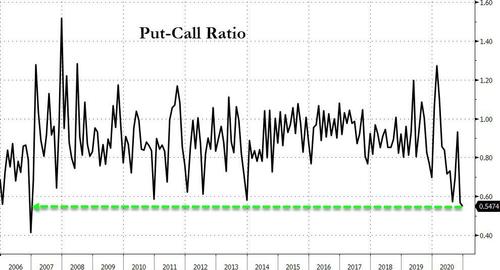 Source: Bloomberg