Passive Funds To Surpass Active By 2022
With December's numbers are still pending, November was a blow out month for passive fund inflows in stocks, and as Bloomberg recently reported, after a blistering start to the year for fixed income funds (thanks to the March crash which spooked retail from stocks and into bonds, if only briefly) equity ETFs overtook their fixed-income peers for inflows this year thanks to November's epic stock rally.
After lagging bond funds for most of 2020, ETFs tracking equities saw a record $81 billion in inflows last month – nearly half of 2020's total in just month – and bringing their total haul for the year to $196 billion, according to Bloomberg data. That catapulted them ahead of fixed-income funds, which attracted $17 billion and have a tally of $192 billion.
The recent surge in ETF inflows is thanks to another unprecedented burst of retail investor euphoria, which is best captured by the mindblowing inflows into Cathie Wood's ARKK momentum/growth/"story"-chasing ETF, the ARKK Innovation ETF (profiled here), which just passed JP Morgan "for the largest actively managed exchange-traded fund" with $18 billion in assets and which owns more than 10% of 15 different stocks.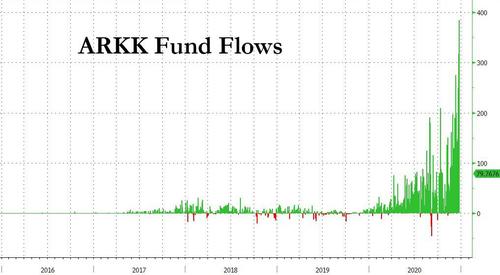 Taking a look at the big picture, BofA writes that exchange-traded funds (ETFs) are on pace to add $466BN, the biggest year of inflows ever (chart below, left), and at the current pace of inflows, a historic inversion is set to take place by 2022, when for the first time ever there will be more assets in passive equity funds than active, meaning humans will officially be a minority when it comes to managing money (thanks Federal Reserve).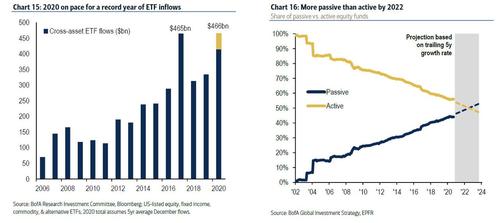 And as the world waves goodbye to fundamental-based investing, and cheers on the arrival of flow and thematic capital allocation (which only an idiot would call "investing"), BofA Research reminds us that it has has the first and only ETF research offering (yes, BofA now rates ETFs not the actual stocks that make them up), with 241 funds rated – some of its top-rated funds are shown in the table below, and notes that it has also recently initiated coverage of the following categories, all of which piggyback either on the unprecedented growth in, well, growth names and the current virtue-signaling crazy for anything ESG/"clean energy":