US Buys Another 100MM Doses Of Pfizer Vaccine; Germany Suffers Record COVID Deaths: Live Updates
Summary:
More Asian countries block travel with UK
France, Bulgaria drop restrictions
US hospitalizations hit new record
Germany reports record deaths
Mexico to start vaccination
Tokyo reports nearly 750 new infections
Taiwan president urges calm after country snaps longest streak with no cases
India cases bounce back after 6 month low
Houston area ICU see 11%  spike
COVID hospitalizations climbing across the country
California's new cases are compensating for decline in Midwest
* * *
Three days have passed since anxieties about the new "variant" of COVID-19 (known to scientists as "B.1.1.7.") have elicited a slight disturbance in markets, the biggest since late October, just before Halloween. 
But as of Wednesday morning, US futures have shifted back into the green, as France and Bulgaria heeded the EU's pleas to restore passenger and/or freight. However, a handful of Asian nations (including the Philippines and South Korea) have tightened restrictions on British travelers, While Japan adopted a suite of new restrictions. Japan will strengthen its entry regulations for travelers from Britain starting Thursday. New entry by foreigners traveling from the country won't be allowed. Foreign nationals returning from the U.K. who are residents of Japan will be required to isolate for two weeks. Returning Japanese citizens will need to provide proof of a negative virus test conducted 72 hours before departure. Those who fail to do so will be asked to quarantine for two weeks at a facility indicated by the government.
Back in the US, COVID hospitalizations climbed to a new record high, as reporters trumpeted the fact that the White House had secured a commitment from Pfizer to deliver an additional 100MM doses of its coronavirus vaccine. Notably, this comes after Pfizer cut its 2021 delivery target in half, prompting the military to step in and volunteer to help the company secure the "raw materials" it had claimed were in short supply. The additional 100MM doses will reportedly be delivered no later than July 31. Under terms of the agreement, 70MM doses will be delivered by June 30. Washington has now secured 200MM doses of the vaccine, enough to vaccinate 100MM Americans with the Pfizer jab, while also securing another 200MM doses (expected to be used mostly on senior citizens and health-care workers) of the Moderna vaccine, the only other company whose vaccine has received emergency authorization from the FDA, has agreed to supply the U.S. government with 200 million doses by June 2021.
As the world wonders whether the UK's conclusions about the effects of this viral "variation" (which health officials purport to be 70% more infections than other strains) are even real (as Moncef Slaoui recently said, there's no "hard evidence", the conclusion is the result of extrapolating data), Moderna, Germany's CureVac and British drugmaker AstraZeneca.
South of the border, Mexico will receive an initial batch of Pfizer's vaccine on Wednesday as Mexico races with Chile to become the first Latin American nation to use the vaccine. Pfizer will send more than 1.4MM vaccines to Mexico by the end of January, Foreign Minister Marcelo Ebrard said at a press briefing in Mexico City. The first vaccinations will start on Thursday, Deputy Health Minister Hugo Lopez-Gatell said.
Hospitalizations in the US have reached their highest levels yet, even as the number of new cases reported daily continued to drop off.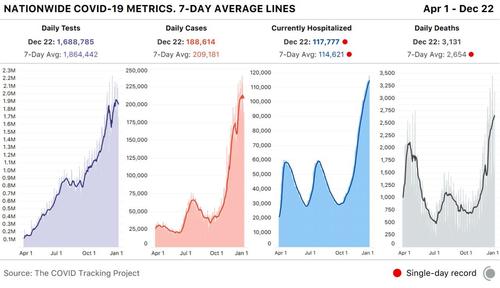 California is now reported so many new cases, that the state is making up for the decline in the midwest.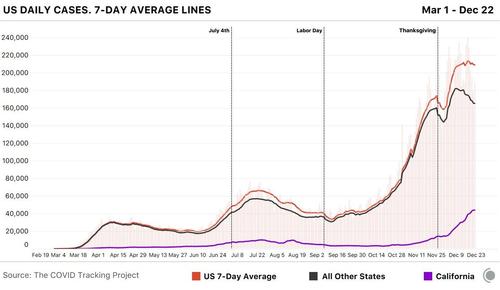 Hospitalizations are climbing across the South, with Florida and Texas leading the way.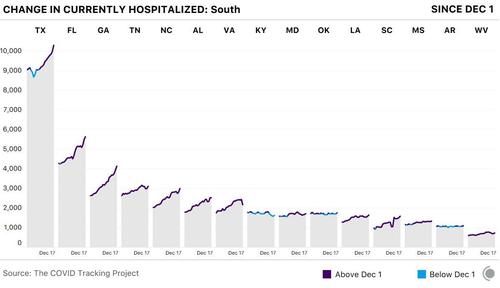 Despite the decline in cases in the MIdwest, the rising number of cases in California is more than offsetting it.
* * *
Offering another glimpse at "vaccine diplomacy" being exercised by the be biggest producers (the US, the UK, China, Russia etc), Malaysia is reportedly in talks with Russia to secure 6.4MM doses of "Sputnik 5". Malaysia, which has been hit hard relative to nearby countries like Thailand and Vietnam, has already secured 12.8MM doses from Pfizer under a deal signed last month, and earlier this week agreed to buy 6.4MM doses from AstraZeneca.
Here's some more COVID-19 news from overnight and Wednesday morning:
The cluster of Covid-19 infections in Sydney's Northern Beaches has grown to 97, and a lockdown will be extended over Christmas to prevent the virus from spreading across the city, authorities announced Wednesday (Source: Bloomberg).
The Houston area's intensive-care wards saw an 11% spike in virus patients during the past 24 hours that swelled the tally of the most acutely ill Covid-19 cases to a four-month high of 505. The number of ICU beds occupied by virus patients in the fourth-largest U.S. city and surrounding counties has more than doubled since the start of November, according to the SouthEast Texas Regional Advisory Council (Source: Bloomberg).
Singapore may provide more details on its vaccination program as early as January, the Straits Times reported, citing Education Minister Lawrence Wong (Source: Nikkei).
Tokyo reports 748 new infections, up from 563 a day earlier and the second-highest total, after 821 last week. The number of patients in serious condition rises by five to 69 (Source: Nikkei).
Taiwanese President Tsai Ing-wen called on people to keep calm, one day after the island confirmed its first locally transmitted case of COVID-19 since April 12. The government announced negative tests so far for the person's contacts (Source: Nikkei).
India confirms 23,950 new cases in the last 24 hours, a day after recording the nearly six-month low of 19,556, pushing the country's total to about 10.1 million. The death toll rose by 333 to 146,444 (Source: Nikkei).
* * *
Finally, down in Sydney, the cluster of collections along the Northern Beaches has grown to 97 as officials extend a lockdown over Christmas to prevent the virus from spreading across the city, authorities announced Wednesday. Meanwhile, in Germany, a record number of daily deaths (986) were reported.