Shipping Container Shortage Triggers Delays For Costco And Honda 
New reports show a shortage of shipping containers in Asia continues to create logistical chaos for Asian companies manufacturing appliances, automobiles, electronics, toys, clothes, and personal protective equipment to the world.
Empty shipping containers are ending up in the wrong places, producing significant delays that now stretch from factories to seaports. 
We recently highlighted that "severe shortages" of containers across Asia has already hit export flows:
China's lopsided trade balance – exporting three containers for every one imported recently – and delays in containers returning to China due to the pandemic overseas, a severe shortage is now starting to pinch export flows. Roughly 60% of global goods move by container, and according to United Nations trade data there are close to 180 million containers worldwide. -Reuters
Amazon seller Bernie Thompson told Reuters that half of his production line was shifted out of China, but there are still logistical issues in moving goods worldwide. 
Thompson, the founder of Washington-based Plugable Technologies, who sells work-from-home products, said his products had tremendous demand this year. Though he warned, "shifting production out of China and moved ourselves right into a disadvantage." 
He said his factories outside of China are experiencing shipping delays up to one month because the lack of containers, adding that any container in the Asian region is being diverted for the China to U.S. trade line. 
These logistical snags have also hit U.S. retailer Costco Wholesale Corp and Honda Motor Co Ltd in the United Kingdom.
"Everyone's trying to squeeze through this narrow opening all at once," said Rick Woldenberg, chief executive of Illinois-based Learning Resources which sells educational toys on Amazon. It can "really screw up your plans," he said.
Peter Sand, the chief shipping analyst with trade association BIMCO, said containerships have been sailing full loads since late summer. 
A.P. Moller Maersk, the world's biggest container line, called the situation a "perfect storm" as global container flows have been disrupted because of the pandemic. 
We recently noted the shortages pushed up 40-foot container rates from China to the U.S. East Coast to nearly $5k earlier this month, up 85% since June 1, according to Freightos data in Refinitiv Eikon.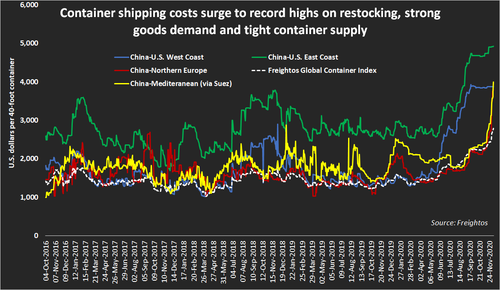 One-sided trade with China showed up in the U.S. trade and current account deficits this week, recording the deepest level since 2008. 
America's trade deficit was $63 billion in October, the problem is Americans are buying a lot of products from Asia. Meanwhile, demand for US products by foreigners has cratered, resulting in a mountain of empty shipping containers at U.S. ports. 
These logistical bottlenecks will continue to complicate the global economic recovery.