Pento: "This Is The Most Overvalued Market We Have Ever Had In History" 
Forget the global recession, the virus pandemic, trade wars, soaring geopolitical tensions, supply chain disruptions, and tens of millions of working-poor crushed deeper into poverty because the stock market is soaring and Wall Street is on an IPO bonanza ahead of the holidays. 
The stock market is in party mode as Robinhood traders pile into very bubblicious companies such as Tesla and Virgin Galactic. The underlying strength in these growth stocks is the likelihood of ongoing global stimulus. That momentum over the last eight months has propelled much of the market to sky-high valuations. 
To expand more on the valuation story, money manager Michael Pento spoke with RT's Boom Bust, calling the stock market's current valuation the "most overvalued ever."
"This is the most overvalued market we have ever had in the history of our stock market… We are headed to more debt and more debt monetization, unfortunately."
Pento adds: 
"When you think about all the debt that we have, you know, 128 percent of GDP, of course it has to be monetized. Otherwise, reality will reveal that this market is completely untenable at these prices and the debt is untenable at these levels. That's the truth."
Shedding even more light on just how frothy the stock market is – the current market capitalization of global stocks is around one hundred trillion. For some context, World GDP was around $85 trillion at the end of 2019, and it appears, that anytime global stock value exceeds World GDP, a correction in markets develops. 
Every day vaccine and stimulus headlines hit the wires, sending algos into buying panic and squeezing markets higher. As we've shown before, much of the gains in the markets this year have been in the overnight futures sessions, not during the day (cash) session.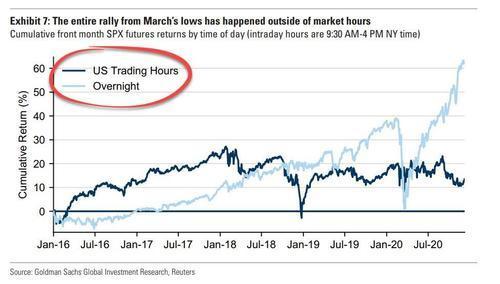 While Greed vs Fear Index and the Put-Call ratios in equity derivatives shows extreme complacency…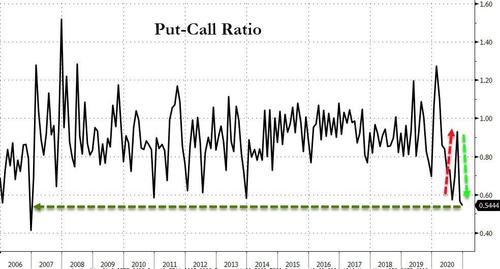 …the real economy is faltering as stocks remain at record valuations…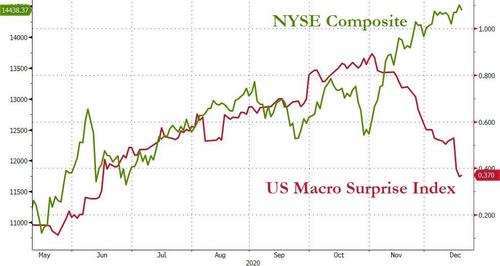 Vaccines won't save the day, a bursting of the bubble of excessive optimism could be right around the corner.