Assad Seeks Major Russian Investment As Syria's Economy Smashed By US Sanctions  
On Sunday a high level Russian delegation arrived in Damascus to meet with Syrian President Bashar al-Assad, where the two sides discussed joint counter-terror efforts and the COVID-19 epidemic facing both countries. It's being described in regional newspapers as "of special importance, given the political and economic files that will be discussed."
Crucially the meeting comes after Syria's already beleaguered war economy has been further smashed by far reaching US sanctions, and as American forces are still occupying oil and gas rich Deir Ezzor province. Foreign Minister Sergei Lavrov and Deputy Prime Minister Yuri Borisov discussed boosting trade ties as Assad called on urgent support from allies needed to shore up the failing economy.
An unnamed Western diplomat cited in Reuters on the critical timing of the high level meeting said, "Russia turned the tide for Assad and with the regime now facing its gravest challenges, Moscow is in a better position than any other time to further squeeze Assad" — meaning Russia can gain more concessions both militarily and in terms of badly needed investment in rebuilding Syria's destroyed infrastructure, something China is said to be eyeing as well.
With Russian help, Assad emerged victorious in the nearly decade-long war, but now faces a long battle for the survival of the the economy and currency. Beginning in the summer, as Damascus began feeling the squeeze of Washington's so-called Caesar Syria Civilian Protection Act, which many critics say is actually immensely increasing the suffering of civilians, the Syrian pound (or lira) began hitting record lows.
The pound lost 67% of its value in the period stretching from mid-May to mid-June. The Caesar Act came into effect on June 17, 2020 – at which point one dollar equaled over 2,000 pounds. Before the war (pre-2011), it was 1$=50SYP.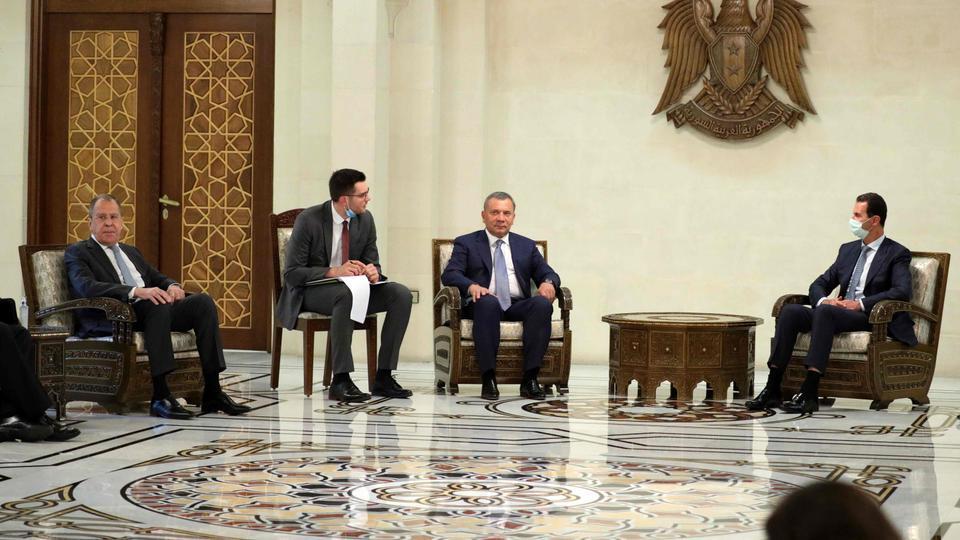 To underscore just how important Lavrov's visit is, it should be remembered that it's the top Russian diplomat's first meeting in Damascus since February 2012, though Assad and Putin have personally met multiple times since then.
Geir Pedersen, the UN envoy for Syria, described these new talks as a possible "door-opener" to a final resolution of Syria's nine-year long war.
Lavrov pledged in subsequent press statements later on Monday that Moscow would help the Syrian government successfully "break through" the fierce US-led sanctions.
However, it remains that Idlib province remains occupied by al-Qaeda, Turkish forces remain on sovereign Syrian soil in northern border areas, and hundreds of American forces are propping up Syrian Kurdish militias in the northeast.